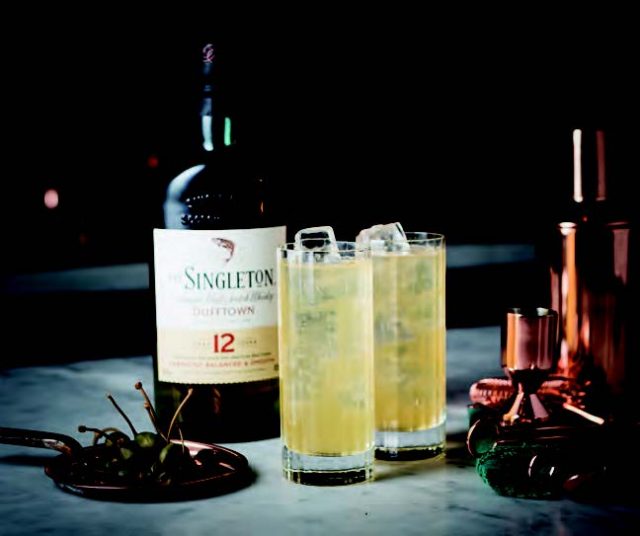 Scotch whisky has the most diverse flavour profile of any spirit, ranging from light and fruity all the way up to robust smoky. This means that we have a plethora of options when thinking about matching with food, and also means that Scotch whisky can be paired with almost anything.
Taking a whisky style and flavour profile is essential when matching with food. If you are a bartender, tasting a whisky neat is always the best place to start, especially if you are looking to match it with or create a cocktail. A deep understanding of the whisky – not only the flavour notes but finish and texture – is essential if you want to create something world class.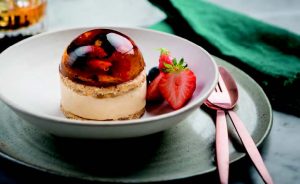 If you are looking to convince a customer on pairing whisky with food, then whether it's neat or with a cocktail serve depends on who you are talking to. I start every pairing event or dinner with a highball: this is a great way to open up the palate and bring people on board who aren't necessarily Scotch whisky drinkers. It's important to bring people into the category, and serving someone a neat 43% Scotch isn't always the best way to go about it. I often start with cocktails and finish with a neat or Scotch on the rocks, and that helps the customer understand the versatility of Scotch.
On the highball serve, I think a simple offering like The Singleton and Soda is vitally important when breaking down misconceptions around whisky. People are too quick to pigeonhole Scotch, and for years we have been telling people how not to drink it; advice like, Don't add ice, don't add water, you certainly never put single malt in a cocktail. But when you serve Scotch with a bit of energy and a bit of excitement in a new way, people tend to get on board. The Singleton and Soda, or highball, is the most important drink for us to bring people into the complicated world of single malt. It bridges the gap between Scotch enthusiasts and complete newcomers: it's still seen by experts as showing Scotch off in a positive way, and it's brought down to an ABV that people who aren't used to drinking neat spirits can get on board with; all at the same time showing off the quality single malt inside.
Beyond the customer, though, one of the most important relationships when pairing whisky with food is obviously between bartender and chef. It can make or break a business but also elevate experiences to new levels if you get it right. Bartenders learn from chefs about the pairing of flavours, but the bartenders can also help chefs understand which Scotch can elevate their drink to the next level. The biggest things we have learned from them are techniques and mise en place. The way bartenders now prepare ingredients wouldn't have happened without the influence of chefs.
For the people who approach whisky and food, the opportunities are endless, and one thing that never fails to amaze me is how the world makes Scotch their own. I was in the Philippines, eating Balut – which definitely falls into the unusual category – and afterwards washed it down with a Singleton and Soda. Not a food paring I'd jump back to, but it was most certainly an experience. Bartenders should really open up their minds to all possibilities.
But if you feel the customer isn't ready, then recreate that 'Classic Scotch moment' with a twist at the end of a dinner. You can send out small samples that look like neat Scotch but are actually cocktails. It will surprise people and elevate their experience. What's crucial is to remember that this is why people go out now: it's not for just food and drink any more; it's to experience something they can't do at home.
If you're looking to learn, the best whisky bar in my experience has been Black Rock, in London. Primarily because it's about a whisky menu, it's about the way they describe the spirit and the clever approach to organising whisky in the cabinet. The best whisky menus aren't written down but recited by someone who lives and breathes the spirit. The best whisky bar in the world is The Pot Still, for this very reason: you never know what the guys are going to put in front of you, but it's always an experience.
If you're looking to put whisky on a menu, then don't position your malts geographically but by flavour. Not everyone is born with an understanding of whisky distilleries, regions or complex production methods, but everyone can understand and experience flavour. So just describe what these whiskies remind you of or taste like, and structure the menu around that.
Looking for the ultimate food and whisky pairing, here's what Ervin had to say: 'Talisker with an oyster. Sorry for the short answer but it's just perfect.' But in a bid to expand the repertoire a bit, The Singleton recruited world-famous pastry chef and 'pie king' Calum Franklin for an evening to pair his creations with whisky; the results were stunning and emphasised the versatility of a single malt.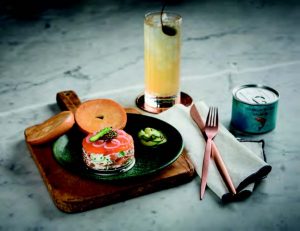 TINNED SALMON & TOAST SANDWICHES
Singleton-whisky-cured salmon and asparagus terrine, topped with pickled shallot rings and caviar, set inside a ring pull tin – sealed and to be opened at the table. Toasted rye miniature bagel and sliced pickled gherkins served to accompany. Vegetarian option: Mediterranean vegetable terrine. Whisky: Served with The Singleton Seaside Soda, made up of Singleton 12YO, chip shop cordial, lemon soda and caperberries.
CURRY PIE & CHIPS
Slow-cooked curried lamb shoulder, onion and potato pie, wrapped in a pithivier-style domed shortcrust pie case, served with a mango salsa and chip shop curry sauce in jugs. Pressed, thinly sliced confit potato chips dusted in salt and vinegar served to accompany. Vegetarian option: curried root vegetable pie. Whisky: The Singleton Trade Route, made up of Balvenie Doublewood 12YO, pineapple and turmeric sugar and Angostura bitters. It comes served in an old-fashioned-style glass with a block of ice.
JELLY & ICE-CREAM
Singleton-infused jelly dome (made with vegetarian gelatine) suspending summer berries sat on a hazelnut ice cream and genoise sponge sandwich. The finished dish looks like an edible snow globe, and the jelly wobbles on the top when the plate is moved. Whisky: Singleton Scotch Mist: Glenfiddich 15YO, blackcurrant jelly, tonka ice cream and a delicious aroma.