Scarfes
Greg Almeida is head bartender in the Rosewood Hotel's Scarfes Bar in London and previously Pollen Street Social.
He's an award-winning bartender, heading up a drinks programme in a multi-award-winning hotel, and since awards literally mean prizes, we take what he says seriously.
Scarfes has one of the most stirring selections of Scotch in the UK, and indeed a programme of learning that ensures all staff are well versed in whisky knowledge. All of which confirms Greg as a useful resource when it comes to measuring up malt for a menu.
How do you go about selecting the whiskies in your bar?
Whisky is one of our main focuses, and being part of a hotel located in central London, with guests coming from every corner of the world, it's essential to feature all the most famous distilleries in our cabinet. It's also important that guests can find the whiskies they know, in order to initiate a discussion. From this point, we are then able to recommend something different, or something from an alternative brand. But we also like finding that little gem, that unique bottling that will add a special something to our offering.
What is the most important approach to listing them in a menu?
Flavour, flavour, flavour: that is the way forward for us. We strongly believe that listing by region or country of production is no longer relevant, and does not speak to the guests. If you have never had whisky before, how would you know the difference between a rye whiskey and a Japanese? If you are not a Scotch enthusiast, it is unlikely that you will know that Islay whiskies tend to be smoky and peaty. We have four categories at the moment for our malt whiskies, regardless of where they come from: "Complex, maritime & peat smoke", "Balanced, delicate & floral", "Light, malty & zesty spice" and "Rich, dried fruits and sherry wood-like".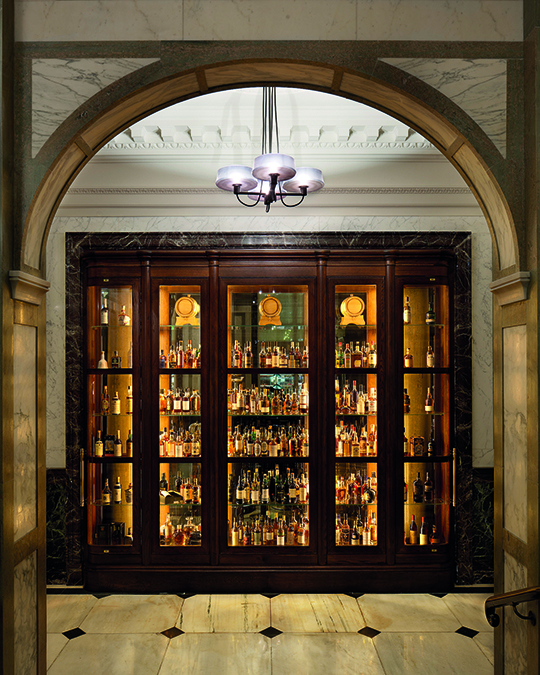 "I BELIEVE OUR WHISKY DRINKERS ARE BECOMING MORE AND MORE DIVERSE."
How do you make a customer's experience unique and different to one they get at home?
One thing we like to do at Scarfes Bar is take the guests to our whisky cabinet, so they can choose their own. The visual effect, and the possibility of smelling and tasting any whisky with the assistance of one of our bartenders, always makes it memorable for our guests, and hopefully not as boring as reading a list that's 50 pages long!
How do you ensure all staff are educated on whisky, what training do you do?
We conduct regular training hosted by brand ambassadors and master distillers at the bar, so that the whole team has a deep understanding of the category. We also send our associates to external events, and, whenever we can, to distilleries for first-hand experiences. Finally, we also conduct quick introductions to any new drams that we purchase, so everyone is constantly aware of what is available.
Is your whisky drinker a specific type, or do you find whisky drinkers are becoming more diverse?
I believe our whisky drinkers are becoming more and more diverse. Previously, it was mostly only enthusiasts who would be brave enough to ask for it. Nowadays, customers from any age and background are keen to try something new, either to celebrate, or just to enjoy a nice drink at the end of their day.
How important is glassware?
Glassware does add to the ritual, although we find the choice of ice can deliver a much greater enhancement to the whole experience. A nice, hand-chipped, clear ice block will always have a dramatic effect on our guests, and this is progressively becoming the norm.
How important are whisky cocktails?
Whisky cocktails have been crucial in raising the awareness of whisky drinking: from the Whisky Sour to the Old Fashioned, they demonstrate its versatility through a large array of cocktails, and have transformed the way people see the category. Enjoying a fruity cocktail based on whisky is possible, so people are now thinking: "Hold on! Maybe it's not the whisky itself that I didn't like, just the way it was served!" A real game changer for us.
Is there a selection of classic cocktails all staff must know?
Of course, there's old fashioned, our most popular off-list classic cocktail, Whisky Sour, Manhattan and its variants, Sazerac and so on. All form the backbone of the cocktail culture, and any bartender must know how to make them perfectly to work with us.
What's the best whisky cocktail ever conceived?
I love the "Penicillin" created by Sam Ross in 2005 at the iconic Milk & Honey speakeasy bar in New York City. Its combination of blended malt, lemon, ginger and honey, with a float of peaty Islay Scotch – it showcases everything I love about whisky: floral notes, spices, light yet with a smoky kick. A true modern classic!
What is a popular cocktail on your menu right now?
Our most popular whisky cocktail is the "Start Me Up", dedicated to our Rolling Stones caricature. The drink mixes Royal Salute 21-year-old whisky, roasted poppy seeds, Campari, peach wine aperitif and horny goat weed. It's served in a handmade porcelain glass, with a 24 carat gold coating. Sexy and decadent, just like the rock stars themselves! We are also working on our new menu, to be launched in April this year. Whisky will have a significant part to play again, with one of our serves being a Glenfiddich Scotch Whisky Highball, with flavours of leather, cocoa, hopped grapefruit, tobacco and soda.