Bull in a China Shop
Bull In A China Shop, an all-day restaurant and whisky bar located where Shoreditch seamlessly segues into the City, is where you'll find in-the-know admirers of Japanese whisky.
With not a leather wingback gun chair in sight, its walls bereft of pictures depicting deers standing majestically in the Highland mist, this former nondescript London boozer eschews well-worn Scotch whisky clichés in favour of an Asian-influenced approach that deftly blends urban dive bar with a Japanese Izayaka and a Prohibition-style speakeasy.
It certainly doesn't have the largest selection of whiskies in London by a long shot. There are considerably fewer than one hundred bottles on its shelves, yet what the whisky menu lacks in sheer quantity it more than makes up for in quality, rarity and the educational way in which it introduces whisky, especially Japanese whisky, to its audience.
Bull In A China Shop specialises in independent whiskies, limited releases and some very rare Japanese whiskies – alongside a strong selection of whisky from America, single cask expressions and independent bottlings from Scotland – oh, and a few from Taiwan too.
"We just wanted to do our own thing and go a bit against the norm," said Cristian Cuevas, Bull In a China Shop's bar manager and menu creator.  "We got to try so many independent bottlings and whisky from smaller brands that it would have been a crime not to list them. It's important that as many people as possible get to try those whiskies and it means that our list is always changing. New whisky gets added every week."
Yet it is Japanese whisky that has been the focus from the start. "Japanese whisky cocktails feature on the front page and make up the majority of the whisky on the list," added Cristian.  "The way the Japanese changed Scotch to suit their palate has created a wide appeal to a younger audience all over the world – and not just in Japan. They are very approachable whiskies and easy to drink".
With prices peaking at £140 for a 50ml serve of Yamazaki Sherry Cask 2016 Edition and awareness and appreciation of Japanese whisky still only embryonic among all but the most erudite of whisky aficionados, Cristian realised that a long list of bottles and prices was not going to work.
So, instead, he designed a menu that delves into the world of Japanese whisky and provides guests with a more comprehensive understanding of the second biggest single malt whisky producing nation in the world.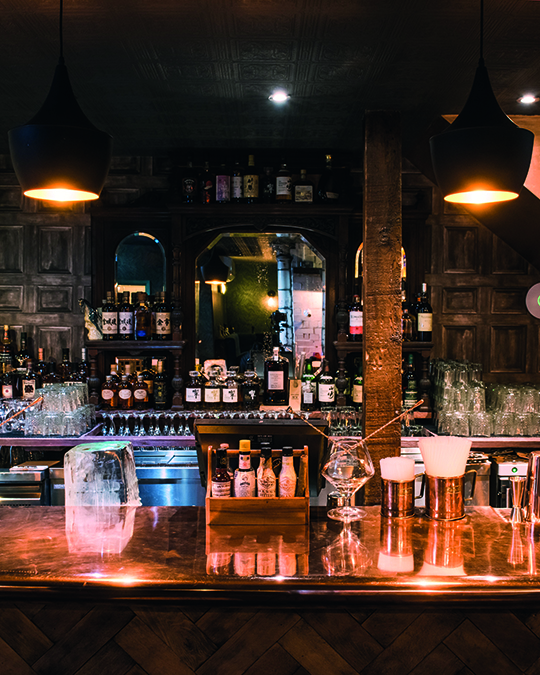 BULL IN A CHINA SHOP SPECIALISES IN INDEPENDENT WHISKIES, LIMITED RELEASES AND SOME VERY RARE JAPANESE WHISKIES.
As well as a brief introduction to Japanese whisky, and a detailed map of Japan's distilleries, the bespoke whisky menu explains how different types of wood influence the flavour of the finished product – including European oak (Quercus Robur), American oak (Quercus Alba) and Mizunara Japanese oak (Quercus Mongolica).
"We try to give as much information as we can and the wood plays one of the most important parts in whisky," added Cristian. "Also people have the chance to compare for themselves the different types of wood and casks."
In addition to an exploration of oak, the menu includes diagrams depicting the contrasting shapes of stills used by two of Japan's most distinct distilleries – the lightness of touch from Miyagikyo on the one hand, and on the other, the heavier, oily and smoky character created by the Yoichi distillery in the north of the country.
Home to rich natural resources and climates that match that of some of Scotland's most distinguished distilleries,  Japan has all the right elements to mimic the conditions for producing a wide range of styles including both Islay and Speyside – allowing them to produce some world class whiskies, adds Cristian.
With an extensive array of blended Japanese whisky, including Hibiki Harmomy from Suntory (priced at £19.00 for a 50ml measure), the menu unequivocally busts the myth that blends are in some way inferior to single malt Japanese whiskies.
"What is really impressive and one of the main reasons for Japan's continued success is that unlike Scotland, where each distillery will focus on a particular style of whisky, distillers in Japan will create lots of different styles of whiskies so the blends all come from in-house casks.
"This allows them to really craft their blends from the very beginning and is one of the main reasons Japanese blends are so highly regarded."
While the menu does some of the work, Cristian concedes that there is no substitute for staff knowledge. "It's very important," he said. "They are the ones that guide the consumer through the list and we make sure they get to taste everything that goes on the shelves.
"The only way (for staff to gain knowledge) is by trying every whisky. It's in the job description. Lucky them!" he said. "Some people just put their trust in the staff and want to be guided. So it's important that the staff know their stuff."
Faced with an increasingly well-informed whisky imbiber, staff are expected to attend brand tastings, independent tastings, talks and whisky shows. "Previous knowledge is not necessary," added Cristian. "Just to be eager to learn."
One such brand tasting from Balvenie inspired a section of the menu where world class whiskies are paired with some top-notch cheeses such as Chevrotin des Aravis, Mimmolet and mature Cheddar and priced between £17 and £20 per person.
"It was good fun eating cheese and drinking whisky," said Cristian. "I guess we wanted to show how much you can do with whisky and break some of those barriers and preconceptions that people may have.
"We wanted to keep people interested and to interact with the staff. To ask questions and to test the knowledge of our staff. We wanted to take the information given to us and share it with our customers."