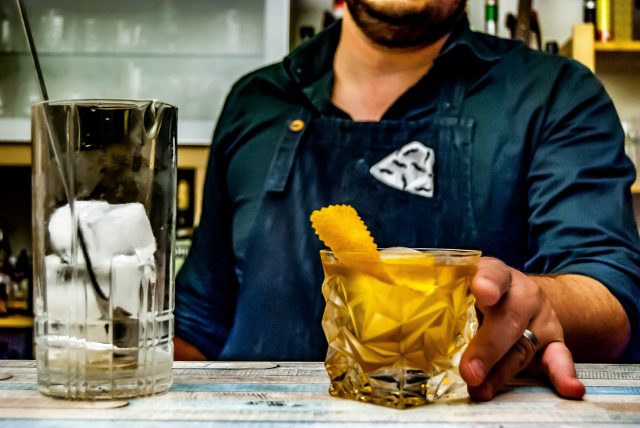 The Old Fashioned is a classic cocktail that should really adorn every cocktail menu.
Not content with a whole heap of history behind it, arguably more than any other classic, a competently made Old Fashioned is a reliable rubberstamp of quality for customers. If a bar can make an excellent Old Fashioned, chances are that the other drinks on the venue's list can be deftly delivered too.
It's a badge of honour among modern bartenders. In fact, the Old Fashioned has been consistently named as the most asked for cocktail among the venues that make up the "World's Top 50 Bars" – proof that it truly is a calling card of quality.
As arguably the oldest recorded cocktail, first appearing as the "Whisky Cocktail" in Jerry Thomas' Bartenders Guide back in 1862, the Old Fashioned has a whole load of history behind it and its origins, as ever, is the topic of much debate.
The search for the origins of the Old Fashioned has remained a frustratingly futile exercise for cocktail historians – no-one knows or perhaps will ever know where it was first served – but the earliest written appearance of the recipe comes from a chap in Chicago called Theodore Proulx, who having bartended at a drinking establishment called Chapin & Gore, wrote a cocktail book in 1888 called the "Bartenders' Manual".
While a staggeringly straightforward serve in theory, the Old Fashioned has sadly been subjected to all manner of unnecessary interpretations since its inception more than 130 years ago. Silly squirts of soda water, insufficient and inferior ice, muddling of fruit and less than wonderful whiskey have all too often reduced it from a wonderfully austere, unembellished drink to a rather silly concoction undeserving of the Old Fashioned name.
But now the Old Fashioned is in the midst of a revival, revelling in a renewed respect among bartenders who, in a wider quest for authenticity, and inspired by a revival in Rye whiskey, have returned to the original recipes that first earned it its reputation as a true classic.
As well as making it the way it is meant to be made – a combination of water, Whiskey, sugar and bitters – bartenders have riffed respectfully on the classic without demeaning it as a drink; playing around with different bitters and sugars, substituting whiskey with other spirits including reposado tequila, aged rum, single malts and blended Scotch, cognac and armagnac, calvados or even genever. The Old-Fashioned recipe is a template that one can apply to most spirits.
In fact, the Oaxaca Old Fashioned, created by Phil Ward in New York, is a cocktail that opened bartender's eyes to agave spirits while the Benton's Old Fashioned, designed by Don Lee of "Please Don't Tell", was the first drink to introduce fat-washing spirits.
The simplicity of the Old Fashioned may open itself up to interpretation, but it certainly doesn't suffer foolishness and frippery gladly. The past has proven that frivolous twists that depart dramatically from its core components are rarely well-received.
Muck about too much with this cornerstone of the bartenders art and your customers, just as they did after Prohibition, will soon be asking for a "Whisky Cocktail" the Old Fashioned way.
OLD FASHIONED
1 teaspoon of sugar syrup
2 dashes of Angostura bitters
75ml bourbon whiskey
Orange zest to spritz
Method
Place the sugar syrup and bitters in a glass, add one ice cube and stir. Add some of the bourbon with another ice cube and continue stirring. Keep adding ice and bourbon alternately, while stirring, until all the bourbon has been added. Stir again, then squeeze the oil from the orange zest over the drink, drop in the zest and continue stirring. The whole process should normally take a few minutes, but if the ice is wet make sure you taste as you go to avoid over-dilution.
BENTON'S OLD FASHIONED
40ml bacon fat-infused bourbon*
5ml maple syrup
2 dashes Angostura aromatic bitters
Method
Stir the bourbon and maple syrup in a mixing glass with ice. Then add the bitters and stir. Strain into a chilled Old Fashioned glass filled with ice. Garnish with an orange slice.
*To make the bacon-infused bourbon: Take four strips of smoky bacon and fry in a pan. Take 30ml of bacon fat and strain it into a container filled with 70cl of bourbon. Leave it to steep in the whiskey for 6-8 hours or overnight at room temperature before placing the bottle in the freezer. Once the fat has congealed in the bottle, strain the bourbon into a new, clean bottle.
SAZERAC
The Sazerac is the strong, strapping sibling to the Old Fashioned. For American whiskey enthusiasts, or indeed those with a fondness for a spicier Rye whiskey, both these classic cocktails will put a smile on your face – but only the Sazerac will put hairs on your chest… and also other parts of the body where you wouldn't normally expect them. It's the rinse of absinthe that sets this short and stirred spirit-forward cocktail apart from the Old Fashioned. The wild Green Fairy liquid from France may only make a fleeting appearance but it lifts the drink wonderfully and is a nod (or perhaps a Gallic shrug) in the direction of its New Orleans' roots.
There's considerable conjecture as to whether the Sazerac was first conceived using Cognac instead of American whisky, with New Orleans bartenders swapping the brandy for bourbon after the pesky phylloxera bug laid waste to French vineyards. But what is beyond doubt is that other essential ingredient to a classic Sazerac – Peychaud bitters. Invented by New Orleans resident Antoine Amedee Peychaud back in the 1830s, these slightly sweet bitters, adorned with a lovely anise aroma, are an indispensable, unwavering element of a true Sazerac.
60ml Bourbon
Sugar cube
1 x Peychaud's bitters
10ml Absinthe
1 x Lemon zest
Method
Fill the glass with ice. In a mixing tin, soak the sugar cube with four decent dashes of Peychaud bitters, then crush the cube and add the Rye Whiskey. Empty the ice from your glass, add the absinthe, swirl around the glass and discard. Stir your whiskey mix on ice to chill then strain into to the glass and spray lemon zest on the top of the glass.