Great Taste
While it's not our ambition to generate a gender debate, it's worth pondering how science has proved women sense flavour and aroma, and feel textures, more accurately than men. That is to say: women have better taste than men. Who'd've thunk it? Anyway, that's a nice bit of interesting pub ammo for you, should you not be aware –  you're welcome. Why not drop it into your bar bants the next time a couple are making choices over your drinks menu? If it's during a quiet spell on your shift, see if you can offer them a bourbon and get them take part in a 'smell off'. We haven't come up with any rules, or really considered what this game actually is… either way, loser pays, and the woman will win every time.
While you're doing that, don't forget to mention Elizabeth McCall, master taster and senior quality control specialist at Woodford Reserve bourbon, who emphatically proves the point. Elizabeth, as the name would suggest, is a woman, and she is in this position because she has a great sense of taste. She is by no means unique, and we are seeing more women land distilling roles – in this magazine alone you'll find Joanne Moore of G&J Distillers. You'll also see Appleton and Zacapa rums both listed, distilled by Joy Spence and Lorena Vasquez respectively. There's also Cardhu in the whisky listings, which is relevant because this brand was actually run by another Elizabeth, Elizabeth Cumming in 1885.
The successes of these industry legends have nothing to do with gender, they were simply the best in the business, and Elizabeth McCall is no exception. Although, what's surprising about Elizabeth is how she came to the role.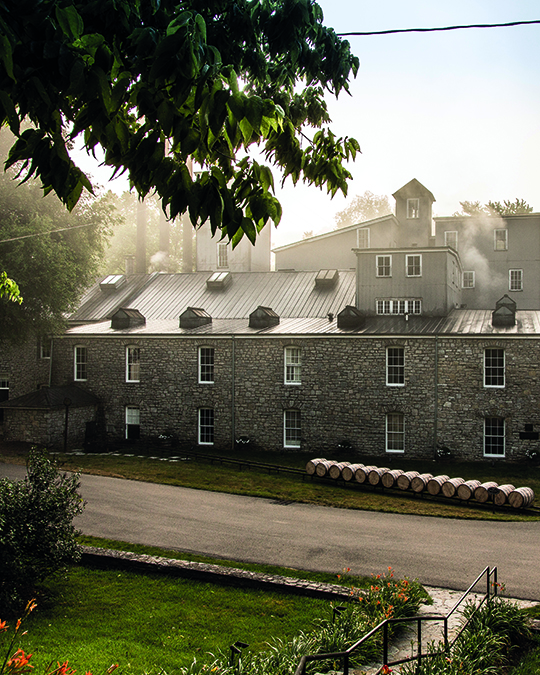 "RARE AND LIMITED EDITION WHISKEY IS VERY IMPORTANT IF YOU WANT TO STAND OUT AS A WHISKEY BAR"
"I got my start in the bourbon industry completely by chance," she reveals. "I was attending my younger brother's graduation party and discussing my upcoming graduation where I was getting my master's in counseling psychology. A man who worked for Brown-Forman overheard me discussing career plans and told me the sensory department had a vacancy. I sent in my resume and a few months later I got the job! I started washing dishes and setting up tasting panels, and a few years later I took an internal class on spirits and made a positive impression on our Master Distiller Chris Morris who, unbeknown to me, was looking for someone to train to be Woodford Reserve's master taster.
A few months later, he asked  if I wanted to train for the  role. I said yes of course!"
In the role she has a hand in every element of the process at the Woodford distillery in Kentucky, from yeast cultivation to sensory and quality control of the spirit when it comes off the still as white dog spirit. She has a nose for consistency, which is essential since the secret to this bourbon's success is its consistent and complex balance. When it comes to sourcing any spirit, consistency is crucial because if you get a bad batch and a novice customer is on the receiving end of it, you'll lose them for life.
"Talking to novice bourbon drinkers is one of my favorite things because I was once lost on how to drink it," admits Elizabeth. "I wasn't always ready to sip it neat, I had to baby-step my way into it. I didn't know how to mix it, and drinking it neat or just on the rocks was intimidating. It was brown, so I didn't think it could be mixed with anything that wasn't brown. Since I don't really care for cola I didn't know what to do.
"Understanding the flavours of bourbon is key. I advise all bartenders research the tasting notes, find food items listed as specific notes, then pair them with the bourbon. This is a terrific way to train your palate to find these flavours. If you don't know what marzipan is how can you possibly find it in your glass of bourbon?
"For the novice drinker I always recommend an Old Fashioned, the extra sugar helps, but if that's outside a customer's comfort zone, make a simple mixed drink. There's a lot of citrus and dark fruit in Woodford Reserve, so mixing lemonade, pomegranate juice and Woodford is delicious and easy. You use a full measure of Woodford Reserve or even cut it down to help your palate get comfortable with bourbon"
As you'd expect, Elizabeth now prefers a bourbon-forward drink, if it's not Woodford on the rocks ("Woodford Reserve Double Oaked with a lemon twist!"), then she admits she loves a Manhattan. She is also seeing the New York Sour appearing on more menus in America, a somewhat forgotten pre-prohibition cocktail using bourbon, lemon juice, sugar syrup, bitter egg white and red wine.
She also urges those who are taking bourbon to the next level to explore the rarer whiskeys.
"Rare and limited edition whiskey is very important if you want to stand out as a whiskey bar," she says.
"I can't give away too many secrets, but we have some very exciting expressions coming from Woodford Reserve. Our Master's Collections have been laid down for many years, and this range is our way to pay tribute to our ancestors who had an innovative mindset. We do this by changing one of the five sources of flavour to accentuate the qualities in Woodford Reserve. In the past we've adapted the grain recipe or maturation with barrel finishes, and moving forward we promise never to repeat ourselves. So once the whiskey is gone from the shelves you'll never see it again. 
"Some bars focus on the cocktails and atmosphere rather than rare whiskey, so they don't need the 'hard-to-get' bottles. But there are bars with rare whiskey who still serve up a fantastic cocktail and an atmosphere to fit. Ultimately it just depends on what type of crowd you want to draw in.
"Cocktails are crucial, though, and their popularity will continue to grow. And as culinary techniques develop the kitchen is forming a great partnership with bourbon, one that will strengthen. You'll see more and more chefs reaching for Woodford Reserve to add and enhance flavors in their dishes."
All exciting future trends, but going back to the bourbon beginner for a moment, what helps to get through to a whisky drinker on the starting line is that bourbon is sweet. Bourbon must be made using 51% corn in the mashbill and rested in new American oak, which ensures a sweeter profile than Scottish malt. So, in this spirit you have a useful bit of bait to get non-whisky drinkers on the end of a line. You still need to understand the customer, which is why you also need to be on top of the complex variations in each of the bourbons on the backbar.
"When it comes to the essential flavours in sipping neat bourbon, I find it's personal for each sipper," warns Elizabeth. "For me I prefer a bourbon that has sweet aromatic notes on the nose, mingled with some citrus and dried fruit character. The taste should bring great, rich, wood notes of sweet toasted oak and cedar. And it should finish in warm brown sugar, vanilla and toasted hazelnut."
This sums up Woodford nicely and should inspire novice and expert to salivate. All of which explains why Elizabeth is not only great at her job as a taster, but also loves being at the Woodford distillery sampling this great bourbon every day.