The Bloody Mary
The Bloody Mary's creation is the story of myth and legend but many argue Fernand Petiot invented it at Harry's New York Bar, Paris, in 1920. It is thought he was experimenting with tomato juice and vodka and possibly named it after Mary Queen of Scots; a customer of Fernand's named Mary; or indeed a waitress at the Bucket of Blood in Chicago – quite what she did isn't so well documented, but we're better off ignorant on that one.
Fernand found fame with the beverage when he transported it to New York and started serving it post-Prohibition at the St Regis Hotel's King Cole Bar. The moniker of the drink was initially manipulated due to the owner's distaste for the blood reference, and became known briefly as the apparently more patron-friendly Red Snapper. That name might still be familiar to bartenders, it would stick around and evolved into a Bloody Mary with gin.
Either way, Fernand's drink was not born as we know it, it evolved before it would flourish and while other names have been attributed to its invention, it was Fernand who added other essential ingredients that give your gulp some pep.
By the 1950s the revisions over names and ingredients had settled and the Bloody Mary as we know it today was firmly in the fists of drinkers around the world. It's no surprise it has endured, particularly as morning-after medicine. Tomatoes are a fantastically healthy vegetable, rich in lycopene and antioxidants while the vodka delivers the all-important hair of the dog. Then there's that spicy splendor of Worcestershire sauce and infamous fiery Tabasco, with a pinch of pepper and a splash of lemon juice to get you out of bed.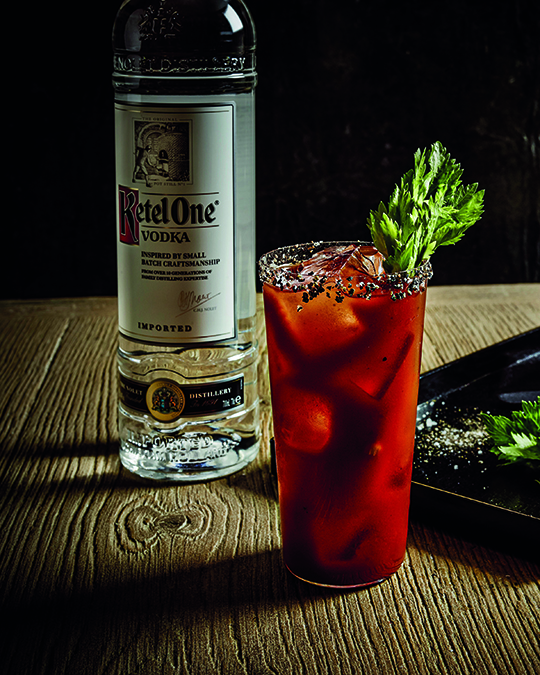 "THE BEAUTY OF THE BLOODY MARY IS THAT IT'LL BEND TO YOUR EVERY WHIM…"
The beauty of the Bloody Mary is that it'll bend to your every whim. Want something hot? Then add a few more dashes of Tabasco. Craving something salty? Then stir it in with the stick of celery. How you have it is entirely up to you. To that end, the bar here will gladly serve variations on the theme, so if you're struggling to get out of your pyjamas here are a couple of suggestions from the Ketel One team.
The first is close to the standard, the second is Jimmy Barrett de Cecco's twist, which resonated with Ketel One owner Bob Nolet.
KETEL ONE ORIGINAL BLOODY MARY
Ingredients
50ml Ketel One Vodka
90ml tomato juice
20ml dry sherry
8 drops of Tabasco
4 dashes of Worcestershire sauce
2 pinches of salt
2 grinds of black pepper
Material
1. Combine ingredients listed above
2. Add extra salt and pepper for the rim
THE TOMATINI
Ingredients
50ml Ketel One Vodka
15ml white balsamic vinegar
15ml fresh lemon juice
Pinch of salt and pepper
1 ripe tomato
Material
1. Slice the tomato into segments and muddle in the base of the shaker.
2. Add the rest of the ingredients.
3. Shake with ice and double strain into a chilled coupe.
4. Peppered cherry tomato to garnish