Put the Ketel on
Dutch vodka Ketel One has long been first on the team sheet for bartenders, and here the 11th generation Master Distiller Bob Nolet tells us why it's such a stalwart, makes its way on to the best bar menus and remains crucial in everything from Martini to Bloody Mary's.
There are a handful of brands you encounter that can consider themselves 'bartender brands' and Ketel One is one of the most significant. Since arriving in the late 90s, this vodka has earned a valued place on menus around the world, with the best bartenders in the business always keen to list it. This is because Ketel One was born into, and has grown up with, the modern UK bar movement.
Ketel One is produced at the Nolet Distillery in Schiedam, Holland, a site that has been making spirit since Joannes Nolet opened his doors in 1691. Remarkably the Nolet family are still overseeing things, with Bob Nolet and his brother Carl currently in charge.
Famous for its genever, it was Bob and Carl's father, Carolus who recognised an opportunity in the vodka market, introducing Ketel One to American bartenders in 1983. Carolus was extraordinarily prescient, and while in America watched with interest as the vodka category burgeoned. Having chatted to bartenders from his bar stool, Carolus recognised the scope to develop a smoother spirit.
"My father's ambition was to distil a vodka that would make a Martini taste better," says Bob. "At that time, most of the vodka available to bartenders was harsh. It is not easy to change the standards of an industry, which is why it took him seven years, but by using stills with extra copper, and our pot distillation, he created something that the bartenders enjoyed."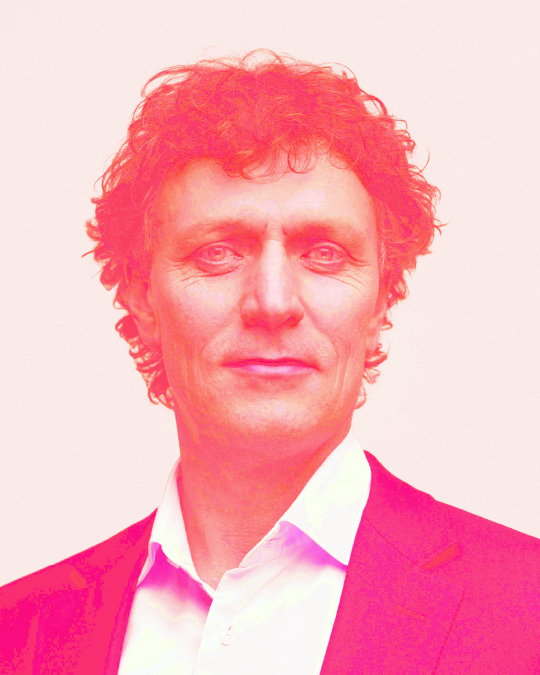 "CONSUMERS ARE NOW LOOKING FOR BRANDS WITH [HISTORIC] CREDENTIALS, BUT IN THE END IT IS THE QUALITY OF THE SPIRIT THAT [MAKES] THE DIFFERENCE."
The vodka was initially embraced by staff at Bix, a San Francisco restaurant bar, and in a trend that continued for the following two decades, it was the bartenders who would help carry it forward. From one small bar, grew an almighty Ketel One oak tree with branches reaching right across the planet.
"A lot of bartenders would come to Bix and taste Ketel One, then spread the word," says Bob. "But if we had simply delivered it and left it there, it could have become another new product that gathered dust on the back bar. We had to go back and host tastings and support the bartenders. And this has been a foundation for its success."
This pattern of communicating with bartenders and supporting them was repeated when Bob took the vodka to the UK in the late 90s. Having enjoyed a London bar safari with drinks expert Simon Difford and bartending legend Dick Bradsell, he quickly recognised the capital's potential for cocktail culture. He returned to London with stock to satisfy a stirring interest among the bartenders.
"The first bar I went to with the vodka was run by Salvatore Calabrese," said Bob. "He was running the Library Bar at the Lanesborough and I walked in on a Friday night carrying a case of Ketel One on my shoulder. I think he thought I was a delivery man, and wasn't happy with someone coming into his busy bar carrying a box of vodka like that. But then I explained who I was, and he was excited to try the vodka, so he made space for me at the bar."
Again, it was simply a case of communicating with bartenders and understanding their needs. It's worth considering a couple of points at this stage. First, hats off to Bob. He pounded the pavement with bottles in hand to get it going. This early interaction with bartending greats like Bradsell and Calabrese is evidence of how much he valued the bartender from the outset of his mission. The Nolet Distillery has centuries of heritage, but this didn't preclude any
on-the-ground graft, with the owner getting out to bartenders and treating this as an entirely new product.
More importantly, the bartenders in question tasted the spirit. Names like Bradsell and Calabrese still resonate with the youngest bartenders coming onto the scene today, because they really invested time and energy into their craft. Ketel One was a new and exciting vodka, but it's success was in part down to pioneering bartenders who understood what it could deliver in drinks.
It's a solid lesson to apply to everything that sits on a bar shelf. Taste it, understand it and let it earn its place there. Regardless of the sales story, a brand will only endure if the liquid is right.
"Today our history helps," says Bob. "Consumers are now looking for brands with these credentials, but in the end it is the quality of the spirit that has made the difference
"In the early days I would go to bars to host seminars, expecting seven or eight bartenders, carrying a TV on my back for the presentation. I'd get there and find a cleaner sweeping up, but sometimes no bartenders. But the culture here has changed since then, and today we are booked into seminars all over the UK and they are full. There is much more interest. And our approach to training will never stop. For us, this is the key to making it work, it's about education, always education."
When it come to sampling Ketel One in cocktails, the Martini was the original benchmark for the vodka, and Bob says it remains his favourite cocktail. If he is unsure of the bar's ability he admits he will order a Ketel One on ice before sampling mixed drinks, but when he discovers a talented bartender, the cocktails will resonate.
"When I was in Dubai Jimmy Barrett de Cecco served me a Tomatini, and I was amazed at what he created with three simple ingredients. More recently we have been in Manchester and had a drink from David Cole at Mr Coopers House & Garden. He's a former barista who made a drink using sherry infused coffee. It was a great drink, we had two. Manchester has a great scene at the moment, and huge bars serving great cocktails. For me this is very important, you can go to a small bar and wait for a drink, but when the bar is big and there are lots of customers, the bartenders must be quick and good, more now than ever because if customers have a bad cocktail they can go somewhere else." As someone who has witnessed the evolution of the bar scene here, Bob is now a valuable source of drinks history in the UK, so it's worth considering what he thinks about how cocktail culture is changing, both here and across Europe.
"Fewer consumers are drinking until 5am or going to clubs," he says. "We are seeing this everywhere we go. Brunch is a big part of drinking culture now, especially with groups of women who are changing the way they drink. It's why we do so much work with consumers on the Bloody Mary, this is a great drink, a way to have fun with cocktails. We start with the base spirit of Ketel One, but can then play with the elements of herbs, spices, even juice – we've used beetroot juice for example."
Brunch moments have been on the rise for five years in the UK, and as always Bob is in bars, driving and supporting this with his team. As ever Ketel One remains a brand for the bar and the bartender, and as long as it stays that way it'll feature in the vodka portfolios of the best bars in the world.
At the heart of Ketel One is a specific 'ultra-wheat spirit', a distillate uniquely created for the Nolet family, sourced from the same external supplier used by Carolus' grandfather. This wheat spirit has been run through a column distilation, the fourth in a rectification still with extra copper plates. While pure, this spirit still packs plenty of punchy character and the Nolet family pass this through their pot stills, including the 19th Century Distilleerketel #1.This is filtered then blended with the ultra-wheat spirit to create the exceptionally smooth vodka.
Much like Ketel One, the process combines the contemporary with the traditional, and rightly so, because aside from the value of modern technological production processes to satisfy the quality modern bartenders demand, it also celebrates the extraordinary history of the distillery. As consumers increasingly demand more authenticity from the spirits they order at the bar, it proves a huge advantage to Ketel to have the Nolet Distillery heritage behind it.
The resulting vodka is crisp with minerality and a little pepper heat, but a critical element is the soft mouthfeel that has made this smooth spirit a favourite in Martinis. Sample it neat and enjoy a crisp finish, but blend it with a little vermouth and you'll note the robust nature of the vodka.