Dom Wodki
Vodka is to Poland what tequila is to Mexico, whisky is to Scotland and… erm… dolo, a local brew made from pearl millet, is to Burkina Faso. Vodka courses through Poland's veins, drifts deep down into her psyche and percolates through her past.
Whatever you do, don't tell the Russians (especially if they're the kind of cliched Russians who come with their own heavily armed entourage) but Poland is the birthplace of vodka. Probably. While the original source of vodka has long been the topic of mass debate among hooch historians, it was most definitely the Polish who provided the first written evidence of vodka distillation dating back to 1405.
Poland remains a big player in both the production and consumption of vodka. According to data from Euromonitor, average monthly consumption of vodka among the Polish stands at just under 14 shots per capita (only surpassed by Russia) and 60% of all spirit sales is vodka.
While the vast majority of these sales consist of standard local brands that seldom stray beyond their local region, the Polish market has echoed other mature European markets with a palpable shift towards premium, super-premium and artisan varieties.
These distinctions within the domestic market have been clarified by the work of the Polish Vodka Association (PVA), an organisation formed in 2006 to promote and defend the heritage of Poland's national spirit – which, along with Cognac and Scotch Whisky, is regarded as a Protected Geographical Indication.
This means that it must use ingredients sourced from Poland. While Polish vodka is renowned historically for being distilled using rye or potatoes, to be able to officially call itself a Polish vodka, it must be distilled in Poland and from traditionally Polish grains: rye, wheat, triticale (a hybrid of wheat and rye), oats, barley or potatoes.
Not only has this helped separate the wheat (or rye, oats etc…) from the chaff in terms of quality, it has helped form a united front in respect of Polish vodka's forays into foreign markets and, crucially, increased reverence and knowledge among a pulsating Polish bar and restaurant scene.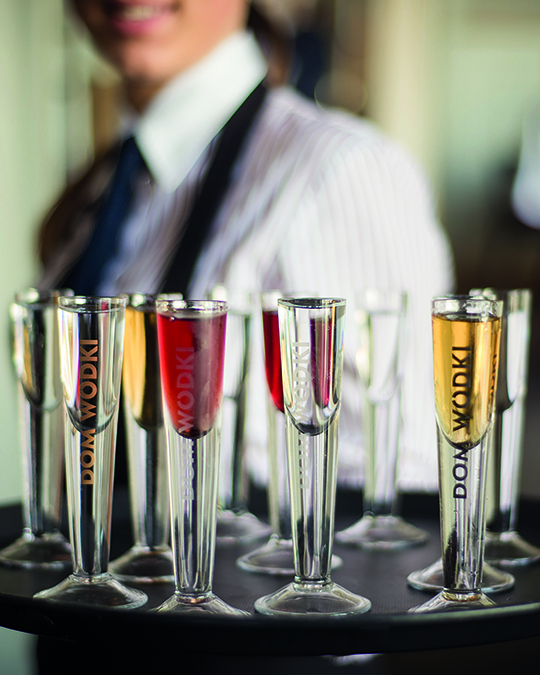 "THE THREE MOST ASTONISHING THINGS IN THE PAST HALF-CENTURY WERE THE BLUES, CUBISM AND POLISH VODKA."
No other venue in Poland epitomises the contemporary vodka scene more vividly than Dom Wodki (House of Vodka), a stylish and scholarly shrine to Vodka, from both Poland and beyond, situated right in the centre of Warsaw. Set up three years ago, Dom Wodki spreads itself across a number of different vodka-driven concepts including Vodka Atelier, a cocktail bar showcasing more than 500 vodkas from five continents (which it believes is the biggest in the world).
There's also a vodka museum that details the drink's rich history with more than 10,000 vodka artefacts and tutored tastings, and a "Roots Cocktail Bar & More" overseen by Tomasz Małek, a multiple winner of several international flair bartending championships.
Yet it is its Elixir Restaurant where Dom Wodki takes vodka reverence in an entirely unique direction. Each of the dishes on the Michelin Guide-rated menu is paired with different vodkas.
"We dedicate two vodkas to each of our dishes – the first vodka is to open and the second is to close," said Pawel Matczak, Dom Wodki's manager. "The first one is to strengthen the taste of the dish and coax out the best flavours, the second one is designed to gently cleanse the mouth and prepare it for the flavours of the next dish."
Served at between 8 ºC and 12 ºC, the vodkas are paired to particular dishes based primarily on their core grain. "Each individual ingredient has a different taste and changes the taste of the whole composition," explained Pawel. "Wheat is usually sweeter, rye is spicy, the potato is citrusy and fresh, and interestingly, heavy in taste".
"Taste is the most important thing," he added. "The combination must be subtle and natural and sometimes surprising. The inspiration behind it is to show and teach guests that each vodka has a different taste and smell and this depends on many factors."
Pawel added that the pairing vodkas help present traditional Polish dishes in a more contemporary light – and the selection is certainly not restricted to Polish brands. Ciroc, the French vodka distilled using grapes, is the closing vodka with a black pudding dish; Grey Goose is the delicate denouement to the potato gnocchi; beef tenderloin is balanced by the Zubrowka Bison Grass vodka; and Elixir has created its own horseradish vodka to bring a whole new flavour dimension to both the pork belly and bacon soup.
"The simpler the better," added Pawel. "Vodka works with food, vodka is the purest alcohol available and it has the least calories". Another dumpling?