El Bandito
No one with sense still wonders about worms. And astute sippers don't even think it'll make them sick – which it won't – assuming they don't shoot it after skulling ten pints. Remarkably, it seems a new generation of discerning drinkers '#heartemoticon' tequila, and 12,000 years after Archaic hunter-gatherers first fermented its juices, we are now entering a global age of agave spirits.
The Consejo Regulador del Tequila (CRT) started efforts to resurrect and refine tequila 24 years ago, establishing a strict set of guidelines that stamped out poor production practice and mediocre mixtos. Since then the industry has drenched itself in beautiful 100% agave, ensuring a sexy selection of the spirit has been on bar shelves for over a decade. As with many drinks trends, pioneering bartenders in London during the late 90s were keen to incorporate quality tequila into menus quickly, and trend setters like Tomas Estes with his Café Pacifico bar in Covent Garden helped the spirit stride forward. But until very recently, the received wisdom amongst most UK punters still had them suggesting this deadly drink left you loco and bent over a lavatory. The literal and figurative hangover is taking time to expunge.
But, reassuringly, there now is a newly strengthening murmur of agave appreciation amongst the consumers, and everywhere from Brighton to Aberdeen is cultivating a collection of connoisseurs. One such city to have embraced the spirit is Liverpool, where the bar group Graffiti Spirits Ltd has helped drive the category in bars dedicated to the distillate.
Like the best agave plants, Graffiti Spirits had humble beginnings and grew organically, maturing over the same seven-year spell it takes the plant to reach potential. Started by John Ennis and Matt Farrell in Liverpool, the original ambition was to get one bar going, a gargantuan goal considering they had £200 in the bank. As with the best self-starters, they pulled it off, getting their hands dirty with the build and devoting themselves entirely to the task. Now they operate an impressive eight venues, including El Bandito Liverpool, a dedicated agave den that has earned the prestigious marque of 'Mezcaleria' from iconic mezcal brand Del Maguey. It's a success story to match the rise and rise of tequila.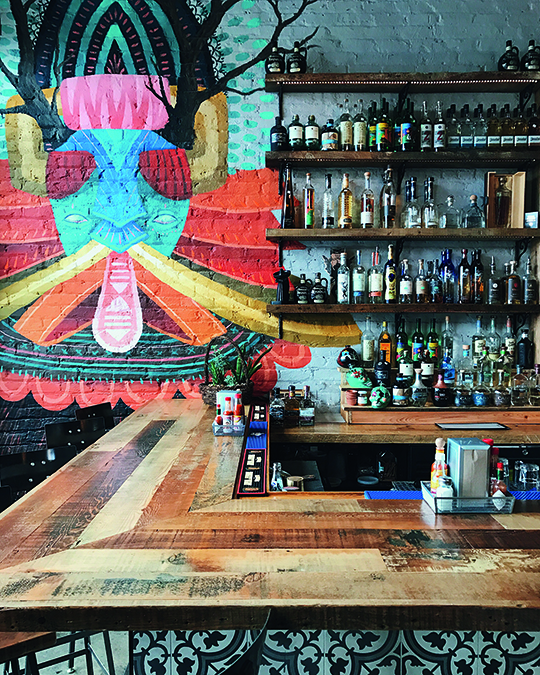 "JULIO BEMERO, DRE MASSO AND OF COURSE TOMAS ESTES HAVE ALL DONE A LOT FOR THE CATEGORY AND WILL CONTINUE TO DO SO."
"We decided to focus on the spirit because I was looking for honesty in products," says John. "Originally I was drawn to tequila due to the culture behind its making and use in drinks. The main thing I like about the category is that when you know what you are looking for all the subtle differences in production coming flying out, this makes it an interesting category to examine and helps you understand what makes the product good or bad."
Honesty in tequila is a new revelation inspired by the CRT. For too long the UK was exposed to substandard spirit, invariably a mixto tequila with a mere 51% agave sugar and the remaining juice comprising of less than obvious ingredients. This is not to say all mixto tequila is bad, far from it, but the lack of transparency made the pitch from bartenders a little problematic. It's hard to upsell shody gear, so it appeared on bar menus as a cheap shot. Meanwhile a ritual of lime a salt, something the Mexicans don't even indulge in, became a way of sensationalising the moment. Suddenly tequila was reserved for a one-off occasion, and its reputation was further damaged when that occasion became the end of the evening. People all over the country were waking up with eye-watering headaches, and rather than blaming a general behaviour of excessive drinking, they were blaming the last thing they touched.
Subsequently, the enormous challenge for the industry has been changing peoples' minds, and it is now the role of the bartender, the front-line negotiators in the drinks dialogue, to educate the consumer and repair this outdated perception of the spirit.
"We've tried to educate people as we've gone," says John. "When we did the El Bandito pop up in London we were selling lots of tasting flights and people were really buying into the experience and wanted to be educated."
One approach for any readers keen to repeat John's success, is to present customers with quality100% agave neat, this way they can consider the complexity. When the right tequila is on the table, everyone can marvel at the blend of obvious rustic agave flavour, but also be pleasantly surprised by the inherent sweet profile of the spirit. This is clearly a massive step though, which is why the evolution of a world-beating cocktail culture in cities like Liverpool, has proved a crucial tool in converting customers.
"In Liverpool most of sales are through cocktails,' says John. 'Admittedly customers haven't got much choice as we don't sell cocktails with any other leading spirit. Agave is always the showcase!"
But it is working and evidence that tequila is spreading well beyond the Capital. John points out, London is the mature market, but anyone reading who still doubts the existence of agave lovers outside the capital, would do well to learn from what has been achieved at Graffiti.
"Outside of London you have a few industry hubs that all have tequila bars and I know more tequila bars that have closed in London than any other city in the UK. Liverpool, Manchester, Edinburgh and Nottingham all seem to have a good agave scene."
If you still doubt how much you need to re-evaluate the tequila selection on your bar, then consider the recent acquisitions in the world of tequila. The up-to $1bn Diageo will or have paid for George Clooney Casa Amigos last year, or the reported $5.1bn spent by Bacardi on Patron. Granted there is a mature market in the US that has motivated these acquisitions, but there is a genuine affection developing on British soil.
"Most of our consumers are industry people so they are usually more educated in agave than the usual guest. That said, everyone who goes to El Bandito knows it's a tequila bar so they are going by choice. But there is still lots to do. Education will still play a vital role, and getting guests to understand more about Mexican culture. Most people's view of Mexican food and drink has been from a Tex-Mex background. In recent years it has been changing but there is certainly more change to come.
John is keen to emphasises other trailblazers who have influenced him over the years, and praises those who paved the way – evidence that as bar professionals everyone needs to learn from someone.
"But, even though I own it, my favourite bar is El Bandito Liverpool. I still drink there. I respect any bartender who risks it all and opens their own place. This doesn't mean people who've had investment and big money. It's people like Beau Myers, Ian Morgan, Max Venning, Mal Evans. We've all risked a lot.
The risk has been worth it, for tequila and for Graffiti Spirits Ltd, which has now successfully transported the El Bandito concept to London.
"As a business we will be expanding to other cities to spread the good word of agave. Manchester will be next on the list and then London I think, but I'll keep you posted."
As tequila grows, so does Graffiti, so bear that in mind the next time you think about it in your own bar as a simple and cheap shot. Show it the respect it deserves, and you can make it a winner in the business.