Rum is the New Gin
Having spent most of his professional life working behind the stick in independent bars, boutique hotels, artisan restaurants and bespoke cocktail lounges, Jon Lister knows his drinks.
This experience led him to the role of head of creativity and drinks at Specialty Brands, where he also acts as European brand ambassador for Diplomático Rum. Jon joined the company after representing the UK in the 2013 Diplomático World Tournament cocktail competition, so unsurprisingly the category of aged rum remains close to his heart. Here he talks about the current boom in aged rum appreciation and how bartenders should approach it.
As the gin boom continues in the UK some of the early adopters are seeking a different flavour profile, but are looking beyond the UK's classic dark spirit of choice in a Scotch or Irish whiskey. Aged rum is an obvious choice for them, it bridges the gap because the complexity of flavour is there, but it comes without the harsher notes the novice consumer is exposed to when jumping straight into bed with a dram of Islay or a sip of Campbeltown Scotch. As a result, rum sales have been growing, and what is most encouraging is that this isn't just in London, it's UK wide. We're seeing an appreciation for the liquid from Edinburgh and Glasgow down to Exeter and everywhere in between.
So, bartenders really do need to be aware of aged rum, but also understand what they are dealing with. Aged rums aren't dissimilar to aged whiskies. They take on the flavour of the wood that they're aged in and they can have a level of complexity that develops over time in the barrel, and even more so when poured into a glass or mixed into a cocktail.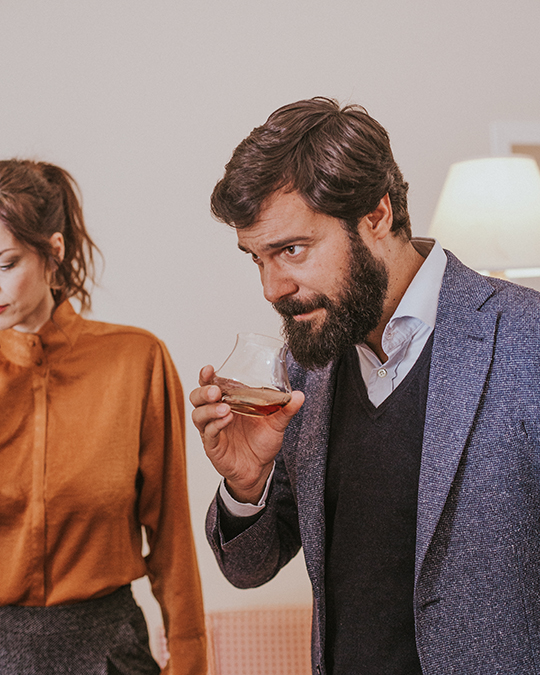 "…BARTENDERS REALLY DO NEED TO BE AWARE OF AGED RUM, BUT ALSO UNDERSTAND WHAT THEY ARE DEALING WITH."
But when you see a number on a bottle it's not always what it may first appear to be. Each producer or country has a different interpretation. When stating, for example, 8-year-old, it could be that the bottle has a rum that's a minimum of 8 years, but it might be an average age, even a maximum. At Diplomático we don't have age statements, they are all blended rums. We do this for consistency, making sure each expression is as good as it can be. If you consider Diplomático Reserve Exclusiva then you discover there is always a set formula to achieve this rum, it's always 80% 12-year-old rum blended with 20% 4 to 6-year-old rums.
The key is to research the brand of aged rum thoroughly, then you can carefully consider how you organise the range. How you do this is very subjective and each venue or bartender has their own approach. That said, why not consider it in a way you might whisky, by trying to build a collection from country to country, which will help showcase a real variation in style. You want to find the unique elements. 
So again, taking Diplomático as an example, this is a Latin American rum and they use three distinct types of stills: pot, batch kettle and column.  No other distillery uses the three styles of distillation, and in Latin America very few even use a pot still. This sets the rum apart but also gives you a reason to put it next to other rums that don't follow this method, and gives you a story about the product.
Quality bartenders are now asking as many questions with rum as they do with any category. You should be demanding more information because better knowledge means you can pass on insights to the consumers.
There are lots of ways to achieve this, one is to ask  the brand ambassadors,  another is to take part in competitions. At Diplomático, we have run the world tournament cocktail competition which has grown rapidly and now sees almost 60 different countries entering.
Look at how the brand supports you, but also who is available for advice. Our owners, the Ballesteros family, tirelessly travel all year around meeting, talking and hosting seminars with the master distiller, which shows such a  commitment to bartenders and a real sense of pride for the brand and what they do.