Garnishes
Dale De Groff is a legend in the world of bartending and a crucial character in the modern evolution of cocktail culture in his native New York and around the world. In the mid 1990s, while working at the Rainbow Room in the Rockefeller, he put his own very impressive garnish twist on the Cosmopolitan in the form of a flamed orange zest.
After neatly cutting a round piece of orange peel, Dale lit a match and held it several inches above the cocktail. He then squeezed the peel side of the garnish an inch or so above the lit match, igniting a flame. Kapow. There was Dale shooting flame across a drink. It looked super cool, and it imbued the bar with some seriously citrusy scents.
Dale's flamed zest became a piece of theatre that drew drinks fans in from all over New York, it became his trademark. A seemingly simple garnish, but one that proved arresting and memorable. Granted, Dale had many other assets that made him the legend he is today, but he also proved that, with all the skills in his armoury, the garnish can still make the difference.
It should be said that while Dale is a pioneer and a man who helped revive cocktails, he was not the first to flame a zest. The practice can be found in the pages of 19th century cocktail books, so this is part of a cocktail lore and heritage. But note that the garnish on any drink counts. Whether it's a complex cocktail or a simple spirit and mixer, the garnish is the decisive final act that can make or break your drink. It's doesn't necessarily need to be flamboyant, and not every drink even needs one, but if you take on a garnish, make sure you're always thinking about flavour.
So as a very general rule, it's often worth garnishing with ingredients that make sense by using a relevant flavour that can lift something that already exists in the glass. If you have a citrus ingredient in the drink, use that as some basic inspiration, or if you create a gin drink, look at the botanicals already in place. Citrus is always an obvious starting point, fresh fruit is appealing on the eye, nose and palate. Naren Young's Garibaldi, made at his Dante bar in New York, was featured in the last edition of this magazine, and he signposts the fantastic fluffy orange juice in his drink with a huge wedge of orange on the top of the glass.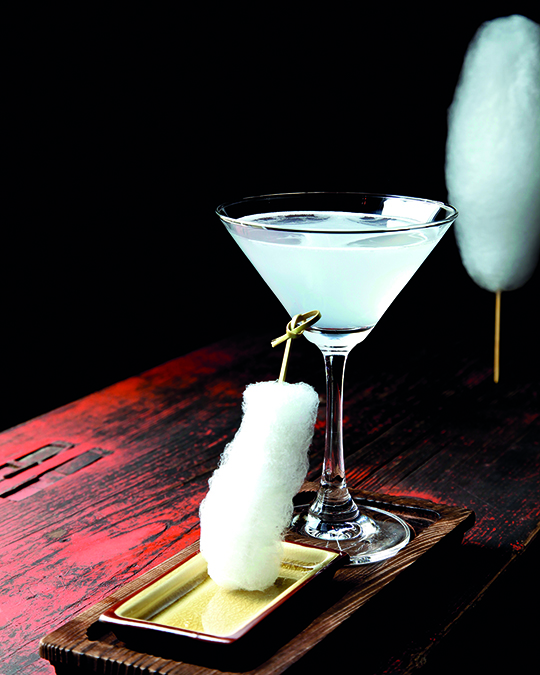 "A GARNISH CAN OFTEN MAKE THE DIFFERENCE AS YOU LOOK TO ENHANCE THE FLAVOUR IN A COCKTAIL OR SPIRIT MIXER."
But the garnish flavour can also be a counterpoint, and certain elements in a garnish can extend the flavours beyond your drink, mint for example can bring an aroma to a cocktail that isn't otherwise in the drink. Even here though, justify its existence.
It's also important the garnish is robust, there's nothing worse than a garnish that perishes in the drink. People like to look at it, if it stands out from a distance, it could be why they buy a drink when they walk through the door. So, don't make ugly garnishes and make sure they stay on the glass.
Sometimes it helps to think beyond the basics. Nightjar in London has presented some incredible works of art on the side of their drinks, from dwarf pineapples to cinnamon barks as a float with ignited over-proof rum and dehydrated carrot, corn and cucumber. Indeed, the dehydrator has been a popular addition to many bars over the last few years. In the Nightjar Barrel Aged Zombie though, the gloves are off. The cocktail mixes Bacardi 8 Year Rum, Santa Teresa Claro Rum, Wray & Nephew Overproof Rum, Kraken Dark Rum, Absinthe, Merlet Apricot Brandy, Mamajuana Cordial Fresh, Pineapple Juice, Ginger Beer, and with ingredients as extreme as this, they are welcome to put whatever they like on the glass. Even so the drinks floral topping looks appropriately exotic, yet surprisingly refined and proves this bar can pull anything off with a garnish. Granted this level of devotion requires a lot of prep time before shift, but if you have the time, it helps bring in customers and helps justify the price of a cocktail.
Jim Meehan always made a point of seasonality on his menus at the great PDT in New York and used the ingredients he could find close to him, grown locally or sourced from farmers markets. Czech bartender George Nemec is another who sticks in the memory, when he was in China he drew from the inspiration from the exotic ingredients around him and his creations ten years ago still seem contemporary today. His Snow White cocktail, with a Havana Club rum base, sported a beautiful shock of vanilla candy floss next to the cocktail, which was as tasty as it was eye catching.
"Why should we care?" says George "Why do you wear coat during the wintertime and sandals during summer? I see myself as a "drinks tailor" and season is one of very important aspects of fitting into your style, taste or mood."
Flavour can be a key motivator, although other objects have been added to significant effect. Tiki trades on its kitsch gewgaws – umbrellas being the most notable eye-catcher – and these additions can help. Jane Danger at Mother of Pearl garnished her Imperial Bulldog with three raspberries, a couple pineapple fronds, and an upturned bottle of Underberg bitter. Meanwhile bartenders at the W New York Downtown hotel garnished The Nitecap cocktail with a hotel key – it cost $299.
Such adornments will get people talking – as Dale proved, theatre is important, and as with Nightjar, it justifies the price. But it also encourages customers to approach a drink they might not otherwise. Someone who thinks they don't like bourbon might drink a bourbon cocktail if it has a gimmick in the glass. That said, you can illicit the same response if you have a healthy, fresh sprig of mint in there.
Whatever you decide, make sure the garnish is fresh, clean and shapely, it needs to be easy on the eye as it is on the palate, because if you decide  to add one, it's an extension of the creative process and a bad one will always let a drink down.