Better Together
The average spirits selection has become more eclectic and diverse; consumers are drinking less but willing to pay more; premium is eclipsing ordinary and, thanks to the emergence of a craft distilling movement, the bar community has witnessed a plethora of discerning sprits hitting the market.
Naturally, mixers have had to follow suit. After decades of being dominated by a couple of behemoth brands, the mixer scene has become a hotbed of innovation and investment with a number of new entrants offering bartenders greater choice when it comes to sourcing suitable soulmates for their spirits.
"Consumers are drinking less but better, which has resulted in premium spirits experiencing a huge growth of 20% in the UK on-trade," said Fergus Franks, on-trade marketing manager for Fever Tree, which launched in 2005 and now has an estimated worth of around £2bn. "Mixers are no longer an afterthought and operators are now expected to have a premium mixer offering to pair with their premium spirits," he added.
In the shadow of the looming sugar levy, 2017 saw a flurry of brand activity in the increasingly competitive battle to become the bartender's preferred choice in highballs, long drinks and simple spirit-and-mixers.
Two-hundred and thirty-four years after Jacob Schweppes first unleashed his tonic waters into the UK, the classic Schweppes brand not only completely revamped the image of its classic range but also introduced several new contemporary flavours designed in association with leading mixologists.
Schweppes' classics including Indian Tonic Water, Slimline Tonic Water, Bitter Lemon and Ginger Ale have been repackaged in historic skittle-style bottles that come in two sizes – 125ml and 200ml.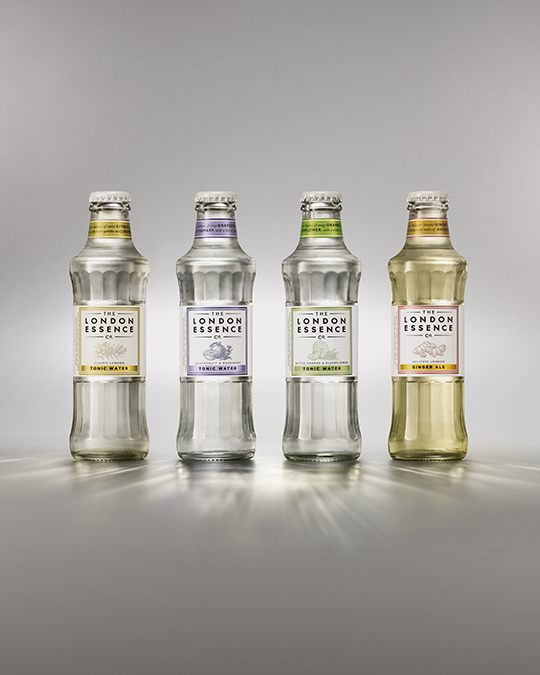 IN THE LAST FEW YEARS, THE BACK BAR HAS BEEN WELL AND TRULY RAISED.
Consisting of Crisp Tonic Water, Light Tonic Water, Golden Ginger Ale, Salty Lemon Tonic Water and Quenching Cucumber Tonic Water, the new "1783 range" is available in 200ml skittle glass bottles and was designed in association with leading mixologists including the legendary Tony Conigliaro, owner of London's Bar Termini and 69 Colebrooke Row.
"It's Schweppes' long-lasting bubbles that set it apart from other mixers, and ensures it's the perfect engine to carry the taste, flavour, and aroma of the spirit it is mixed with," said Tony. "While the UK's gin trend shows no sign of  slowing down, the brand's new 1783 range responds to the growing popularity of alternative spirits, like whisky, rum, and tequila – with some really exciting new flavours to take your cocktails to the next level."
Fever Tree, which entered the market back in 2005, has built its booming business on a gin and tonic market that, in recent years, has experienced ginormous growth thanks to the spirit's remarkable resurgence.
To support the launch of a quintet of different quinine-carrying tonics designed to go with gin, Fever Tree worked with bars to create made-to-order Fever Tree G&T menus that the brand designed and printed.
"We've seen an uplift of 45% in premium gin and 61% in overall G&T sales with accounts who stock Fever-Tree's range of mixers and have a bespoke Fever-Tree G&T menu," added Fergus. "By putting choice in front of the customer and making the spirit-and-mixer category exciting, premium sales have seen a huge uplift."
Another player in the mixer market to work with an industry legend is London Essence who, back in 2016, teamed up with drinks guru Nick Strangeway – whose cocktail CV is a remarkable read featuring Fred's Club in Soho, where he worked under the late yet iconic Dick Bradsell in the 1990s, the Atlantic Bar & Grill, Floridita, Boisdale, Hix's Bar and The Hawksmoor, the high-end collection of award-winning steakhouses.
What differentiates London Essence from its competitors is that the liquid is partly borne out of the distillation process and eschews large doses of sugar in favour of its other sources of sweetness – such as stevia.
Top-end in positioning but lower in calories, London Essence was launched by WiseHead Productions with backing from sizeable soft drink stalwart Britvic. The flagship Classic London Tonic uses essence from its very own signature juniper distillate to produce a cocktail companion that is both elegant and balanced.   
The other two tonics; Grapefruit & Rosemary and Bitter Orange & Elderflower also contain components from a swan neck copper distillation process using fennel, rosemary and anise.
The Delicate Ginger Ale, meanwhile, made with an elegant aniseed distilled essence, is designed to mix with dark spirits – such as the 'Moscow Mule' or a 'Dark and Stormy'.
As the range of gins widens, another mixer alternative available to bartenders looking to expand the profitable G&T occasion is the botanically brewed batch of Fentimans mixers – designed for both gin and vodka.
The way Fentimans 'brews' its botanicals involves placing them in copper steam jacketed pans with an infusion of sugar, brewer's yeast, herbs and spring water before fermenting the ingredients in wooden vats.
Fentimans' headline tonic water uses lemongrass essence, good for anti-oxidants, and purified chinchona bark (great for those suffering from scurvy) while the deliciously dry, lip puckering Pink Grapefruit Tonic, made with ruby red grapefruit, is a beautifully balanced lengthener whose lovely pink hue adds an added eye-catching dimension to the drink.