The Drinksmith
As an inseparable cocktail couple, Jared and Anastasia Brown are two of the most influential people in the world of spirits and cocktails. Added to this, Jared has the distinction of being the distiller of one of the most famous gins in the world: Sipsmith. Here he tells us the story of a classic gin, born into modern times and an essential addition to any spirits-led bar
In the absence of a gin of truly uncompromising quality we (Sipsmith creators Sam Galsworth, Fairfax Hall and myself) set out to create one – a classic, handcrafted London Dry Gin, made in small batches in London, the birthplace of gin.
Our challenge was to successfully pursue an appeal against the 1823 Gin Act in order to gain a licence for small batch gin distillation (a still under 1,800 litres), which was previously deemed as moonshine.
After two years of lobbying and convincing the government, Sipsmith influenced a change to the law which allowed us to bring classic London Dry Gin to the capital, making Sipsmith the first copper pot gin distillery to open in London for nearly 200 years. Through challenging the gin norms we are now widely credited as catalysts and pioneers of today's gin renaissance. In fact, bringing the spirit of England back to its birthplace was almost the easy part, compared with helping make gin popular again.
Unlike many spirits that have evolved in different ways and at different times, London Dry Gin was developed with a specific set of botanicals in a specific place – London – at a specific point in history. It's from that point that we have taken our reference, and as such made a conscious choice to bring back that classic style to the gin world. Gin made as it should be made, with absolutely no cut corners, to achieve the most exquisite classic gin of uncompromising quality.
Sipsmith London Dry Gin is exceptionally smooth and classic in style, with a character bold enough to carry itself through a G&T and smooth enough to be sipped in a Martini. Gin is an essential bartender's ingredient for building all sorts of cocktails and so it had to be a classic!
We hope people will find Sipsmith London Dry Gin a useful reference, a gin stylistic storm lantern that will help gin lovers navigate a market packed with different varieties. We believe we have created the benchmark for a classic quality gin.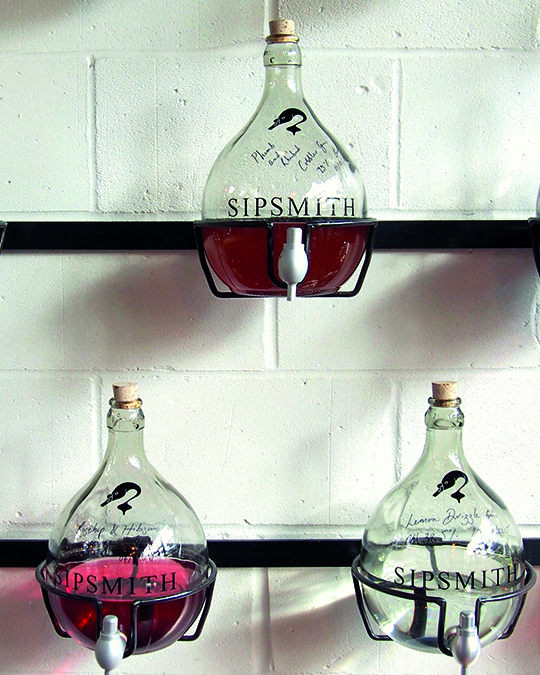 "IT IS IN OUR DNA TO EXPERIMENT AND WE WILL ALWAYS BE INNOVATING AND BRINGING NEW IDEAS TO THE MARKET."
Trial & Error
I did a huge amount of research, mainly from distilling books dating back as far as the 1700s, and I did hundreds of tests until I was happy with the final recipe. That recipe is exactly the same now as it was nine years ago when we first released it, a classic London Dry Gin at 41.6% ABV.
The ABV is 41.6% because the optimal ABV for balancing the botanicals is between 41% and 43%. We tested this in fine increments, blind tasting as we went, and 41.6% was the winner.
Just as it took hundreds of tests until we were happy with our London Dry Gin recipe, we have a continued restless enthusiasm for experimentation. Everything we make at Sipsmith is a celebration of tradition and exemplifies the creativity that goes into producing a gin of uncompromising quality – we only ever release expressions of gin that are outstanding in quality and raise the bar. That's what led to the release of our London Cup (a premium version of a summer drink that you mix long with lemonade and fruit) and our ever so popular Lemon Drizzle Gin.
Our Sipping Society is a wonderful way to experience the very best of our distillery experiments – made by hand (just like all our gin), by our distiller in the lab. Every gin is made in our tiny 50-litre still – affectionately named Cygnet – and our Sipping Society members get first hand access to these prodigious gins (www.sipsmith.com/members).
From day one, we have championed our belief that doing things by hand, with passion and immense skill, will lead to the most exceptional results. There are simply some things that machines alone cannot master, and making a premium classic quality gin, just like an exquisite work of art or piece of music, is absolutely reliant on flair, passion and human skill.
There was never any question that we would use one-shot distillation, as it gives a far superior flavour and mouthfeel. Selecting your heart cut was once the true art of distillation. Attempts have been made to find a standard point and create charts and tables for the heart cut. However, the beginning and end points were set by chemists measuring alcohol output and not flavour. The distillation process at the Sipsmith distillery begins in the morning when the end of the heads are marked by an abrupt burst of sweet citrus aroma, which is glorious. This is the beginning of the heart. At midday, the heart of the heart brings the classic juniper notes, then later an aroma not unlike vintage champagne (biscuity, toasty, creamy, hints of almond) marks the end of the heart. The next bit smells of old mop water. In virtually every other gin about 10%-15% of this bit is left in their distillate, as it contains high levels of alcohol. We do not, because we did not use tables to set our heart cut, we used our palates.
Still Life
The design of our stills is crucial in obtaining our desired flavour. The helmet (the part directly above the pot) controls the reflux (the intentional inefficiency of bringing alcohol vapours from the pot to the condensing coil). If you look in our stills when they are running, you can see the spirit raining back down from the helmet, to rise again and again before reaching the swan's neck. Each time, it is further exposed to the highly reactive copper which acts as a molecular filter, cleaning and purifying the distillate.
In whisky, it is easily understood that the angle of the swan's neck determines the flavour of the spirit. The ninety-degree, tapered necks on our stills are ideal for delivering the best flavours in the botanicals. The swan's neck is so important to us that we pay homage to it in our logo.
We passionately believe this is the only way to handcraft spirits of this quality. Inspired by the centuries of London's gin history that we have inherited, we balance modern technology with traditional recipes and techniques.
Sipsmith began with three idealists seeking to return the spirit of England to its birthplace. This ideal still comes through in every batch we make by hand here in West London. We make our spirits in genuinely small batches with our team of dedicated distillers, on our copper stills (Prudence, Constance and Verity). Unlike most distilleries we have an inverted ratio of distillers to pot stills – five distillers, three copper pot stills. During the creation of every batch our highly skilled distillers use their senses and experience to determine when to take the cuts and what the perfect amount of botanicals is for our one shot recipe.
Our cuts, at first made purely by tasting and trial rather than trusting anyone else, are now setting a new standard for gin quality. For us, this was always about making the finest possible gin. We are gin lovers through and through and our team has a passion to inspire ever more people to discover and enjoy our classic quality hand-crafted London Dry Gin.
The Botanist
Our botanicals are classic and nothing we have chosen would be a surprise to an 18th Century distiller. We have carefully sourced the botanicals that go into our classic quality London Dry Gin from all over the globe, choosing only the very best quality ingredients. This means that we do not change our source based on where the best global harvests are each season, but our juniper is always sourced from the Mediterranean basin.
We discovered that juniper from the north Mediterranean is hands-down the best for making gin. It was a lucrative export for Genoese merchants trading with England as far back as the 1200s and centuries of distilling books laud its superior quality. Our own tests confirmed this and so in the tradition of London distillers from the first, we only use juniper from this region.
The recipe for Sipsmith London Dry Gin was inspired by one I found in an eighteenth-century book called The Art of Distilling. Each day, we add precisely the amount needed to make one batch of gin in each still – never adding more to create a gin concentrate.
Bartender Love
We were surprised at the instant welcome we received from some of London's most high-end bartenders. It was a vodka world in 2009 and we never expected to find so many bartenders ready to embrace a new gin from a tiny start-up company in a London workshop.
Customer number one, was Giuliano Morandin of the Dorchester Hotel. Thankfully, bartenders from London and around the world stop by the Dorchester to visit the legendary bar. We couldn't afford marketing or advertising, but bartenders were able to visit us at the distillery to watch the stills in action and taste our gin.
We truly believed that if we made a good enough gin, the liquid would be our best ambassador – and it was. Gin is an essential ingredient for building a wide range of cocktails and our classic style meant it was even more versatile. We were soon on the shelves in most of London's best places, and top bartenders from across the city quickly became our strongest advocates.
Consumer sophistication has been on the rise for years. People have long since moved away from buying the biggest bottle of wine and the biggest plate of food their money can buy, to buying the best they can afford. We are shifting from a binge culture to an indulge culture.
Gin is a large step up from vodka, which ruled the drinks scene from as far back as the 1980s. People ask if gin is a trend and what will be next. The truth is that gin, like good wine, is an evolution not a trend. Other spirits categories are also rising, but what is fading is appetite for mediocrity made by multinational beverage companies, while craft spirits show every sign of continuing a steady rise into the future.
Future of Gin
I'm very positive about the future of gin. It is in our DNA to experiment and we will always be innovating and bringing new ideas to the market – like our hot gin serves that were sold at over 250 accounts this winter.
However, we do also see a danger of the gin boom running away with itself and the crowded market becoming overly complex for people to navigate. We feel we can help bring some clarity to the category by educating consumers on the different gin types available and using our classic London Dry Gin as a compass to help gin lovers navigate this crowded market.
As consumers explore the category they often start off drinking the classic gin and tonic, before discovering other options including gin cocktails such as the Martini and Negroni. We recognise this consumer appetite to learn and discover more and we are always experimenting with new gin styles. We have a passion to continue to inspire people to discover and enjoy this great spirit – and we welcome all gin explorers.
The supply of glassware and array of different gins available in a bar are among a bartender's greatest assets in terms of enhancing the consumer experience. Comparative gin and cocktail tastings are also a remarkable education tool for consumers, coupled with bartender knowledge of the history and stories behind drinks, which helps contextualise the exploration experience for gin lovers.