Mature Debate
When it comes to delivering a delicious whisky, producers in the world of single malt know that getting good wood is the key. And for those giggling at the suggestion of 'getting good wood', we obviously mean they understand how quality casks are essential when maturing a distillate of discernment. Grain, yeast and water, fermentation, stills and distillation, these things obviously matter, they are vital components in whisky making and create the essence of a new make single malt. But (or indeed 'butt') it is the oak cask whisky rests in that takes the spirit in a specific flavour and aroma direction. It gives it colour and it gives it character.
Scotch whisky must be matured in oak barrels for a minimum of three years by law and the legislation also dictates barrels have a capacity of less than 700 litres. Like many of the Scotch whisky constraints, this might imply there is very little wriggle room for experimentation, but there is enormous scope for innovation in maturation by playing with the style of wood used.
As an example, Speyside giant The Macallan suggests that up to 80% of the character of the 10-year-old Sherry Oak comes from this interaction with the wood. That is a serious contribution from oak, and with this in mind, you best make sure you know a bit about the barrels being used with the products on your shelves.
For those readers new to whisky, Scotch is not matured in brand new barrels, the producers will buy barrels previously used for wine and bourbon. Most comes from America since the bourbon industry by law must rest its whiskey in new American oak each time. After use the casks are sold on to the whisky industry. Another big supplier of the Scotch industry, and a more historic one, is sherry. Sherry butts were once prevalent in the UK due to the English love of the Spanish wine. Today we're less enthused with sherry, so wood is specifically seasoned with the wine for maturing spirits.
These are the two styles most commonly used today, although interestingly Glenmorangie was the first to use bourbon and that decision came as late as 1947. While we tend to think of Scotch as a spirit drenched, and possibly even tied to centuries-old heritage and traditions, this relatively recent embrace of American oak hints at regular spells of innovation.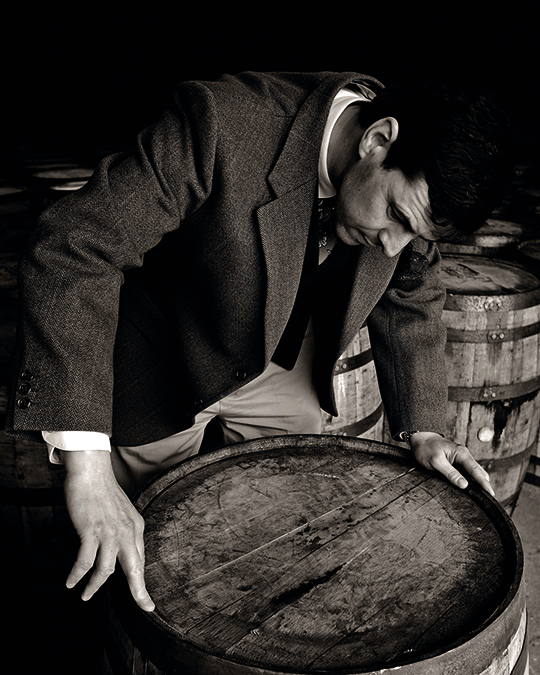 UNDERSTANDING THE INFLUENCE OF WOOD ON WHISKY IS ESSENTIAL IF YOU STOCK A QUALITY RANGE OF SINGLE MALT.
This is emphasised when you understand that Glenfiddich was the first brand to market single malt whisky in the 1960s and was, remarkably, derided for the decision. Look at it go now, the best-selling single malt in the world.
So Scotch can and does innovate, and when it comes to wood, there is plenty to explore and digest.
Dr Bill Lumsden at Glenmorangie is one of the foremost experts in wood maturation. He recently launched a new malt into his Private Edition range, a selection of Glenmorangie whiskies that have been aged in a variety of casks. It is worth exploring this brand, because Dr Lumsden's experiments have showcased the jaw-dropping potential in single malt flavour. When it comes to whisky making, Dr Lumsden is a pioneer in the exploration of maturation, has an affinity with the material and has made an art form out of resting single malt in oak. Ask him what he thinks, and he will tell you: "wood makes the whisky", and agrees it can at the very least influence 70% of the character. This was a point he reinforced emphatically as he unveiled Spìos, the ninth Glenmorangie Private Edition, which has been matured entirely in casks previously used for American rye whiskey.
"Back in the late 90s, when I was introduced to rye, I found it was a style of whiskey on life support," he explains. "But I believed our smooth house style would complement the nuances of ex-rye casks. So, ten years on from my first involvement with it, the challenge was finding the right casks."
In his bid to source rye barrels he approached a producer who had to buy original casks back and re-condition them, using not only the right wood, but also a soak with a rye that had the correct mashbill. Rye is a tricky whiskey to tempt a novice with, the grain and the interaction with new American oak can present you with a dry and fiery spice that sits better with a seasoned sipper. Spìos is Scots Gaelic for spice, and as you'd expect, the rye casks present you with plenty of it, but there is a unexpectedly useful integration of malt with rye here. The rich, sweeter quality of Glenmorangie's house style stands up, and yet, as with the best American whiskey, there is a contrasting clean, almost menthol finish.
Other expressions in the Private Edition range include the highly revered Sonnalta PX, rested in Pedro Ximinez sherry casks; the Milsean finished for two-and-a-half years in 154 toasted Portuguese red wine barriques; and the lauded Glenmorangie Ealanta, rested in virgin American oak. Glenmorangie Original, meanwhile, is itself a fine example of wood maturation; having been rested in bourbon it is a sweet and rich creation and one that works well as an introductory whisky to a novice.
But even when keeping to the more traditional sherry oak you can find nuance and story-telling. Take Glenfiddich's 15-year-old, which is aged using the traditional Solera system used in in the maturation of quality sherry. The malt enjoys spells in three distinct styles of cask, European oak sherry casks and new oak casks, before being mellowed in a unique Solera vat, a large oak tun inspired by the sherry bodegas of Spain and Portugal. The result is a complex malt rich with sherry oak, cinnamon and ginger, raisins and orange zest.
So wood matters, it's a material that massively enhances and impacts on the single malt spirit, which is why you need to carefully consider not only the selection you make in your bar, but also educate yourself fully on the product. When justifying the price of a single malt you need all the tools to communicate to the customer and make sure they, too, get wood.