Irish Charm
We all have our view of an Irish bar. Bicycles on ceilings. Leprechauns on the loo doors. Blarney at the bar. Toucans. Taytos. There was a time when an Irish bar was simply a bar run by Irish people, then someone turned the concept into a chain and the whole thing became aggressively clichéd.
Mercifully the Nuala restaurant and bar in London has addressed this and is proving there is plenty of integrity in Irish culture, not least when it comes to its whiskey.
Up top, Nuala is a restaurant with the kitchen run by Colin McSherry of Fat Duck and Dinner by Heston fame. Underground it's an Irish bar with live music daily, a vast whiskey list and a menu choc full of quality cocktails. Simply put, it's a great venue using all the best Irish ingredients – including Guinness and Taytos. Irish flavours, familiar dishes and drinks, but all handled with a modern twist and a shining example to others that a fresh take on a tired theme can deliver something truly contemporary.
For those reading who stock Irish whiskey already it's worth a gander at the drinks list at Nuala. The Irish whiskey punch mixes Guinness and black tea to keep things on message, but elsewhere the list is classic in places, with a clarified milk punch, blending Cognac, rum and sherry; and spicy in others with its Mexican-inspired serve of chillies, smoky mezcal and tomato water. Above all else, there's a passion for Irish whiskey here, but you don't need to be an Irish bar to add it to your own portfolio.
Paying tribute to Irish whiskey should be easy for any spirits-focused bar, after all, the Irish invented the spirit. This might sound like a bold claim, but take a cursory look on Google and you too will glean that Irish monks were the first distillers of grain. The Moors had originally shared methods of distillation in southern Europe, methods that were taken back to Ireland by travelling religious figures who practised what was preached.
The techniques were subsequently taken to Islay and on to the Scottish mainland, but until the 19th Century, Irish whiskey was the global whiskey of choice. So what happened? Well, a dose of nasty temperance both domestically and then through Prohibition in the core American market started to dent the luck of the Irish.
Then there was Irishman Aenus Coffey, a man who patented the Coffey, or column still, a technology that sped up distillation. The Irish rejected Coffey, preferring their traditional pots, so Coffey went to Scotland and helped make it a mainstay of the whisky industry there, ultimately kickstarting the Scottish industry. These elements all contributed to the decline of the Irish whiskey industry, which would collapse over the next 100 years.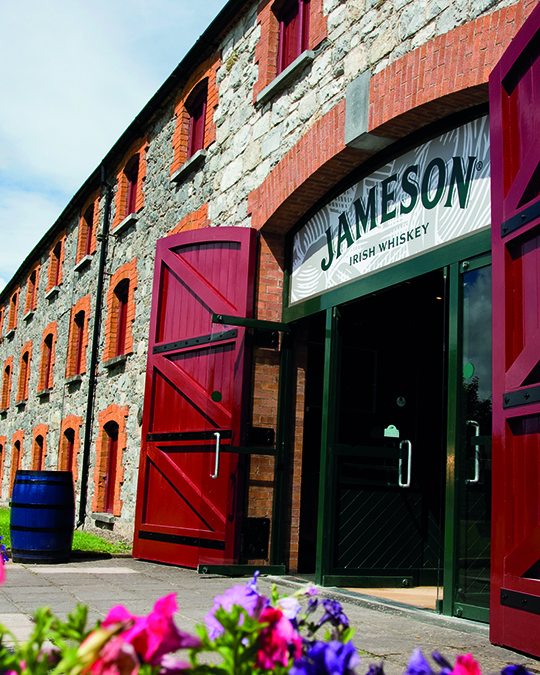 "IRISH WHISKEY IS RESURGENT AND NEEDS TO BE PART OF ANY COMPLETE WHISKEY OFFERING."
With that in mind it's reassuring to see the Irish whiskey industry clawing its way back. During the last decade, new distilleries have bounded onto the scene here, all promising a resurgence in the native spirit. Your choices today include pot still Irish whiskey, malt Irish whiskey and grain Irish whiskey, combine them and, you'll not be surprised to hear, you find plenty of blended Irish whiskey too.
Regulations dictate it must be distilled on the island of Ireland, including Northern Ireland, from a mash of malted cereals with or without whole grains of other cereals, distilled at an alcoholic strength of less than 94.8% by volume and in such a way that the distillate has an aroma and taste derived from the materials used. It also needs to be aged for two years.
As a generalisation, we think of Irish whiskey as soft, sweet and smooth, but as you would expect, there is mastery in distillation and wood management that presents us with a wide array of styles and flavours. As a side issue, it's whiskey with an e, simply a spelling anomaly, or the correct spelling depending on your view of history.