Vintage Vermouth
People are prepared to cough up the cash for heritage, and while an authentic history isn't the be all and end all for a brand, an olden-day story in a drinks pitch can swing an upsell. Cocchi delivers such heritage in spades. Creator Giulio Cocchi, a pastry chef from Florence, moved to Asti in the 19th century and  promptly fell in love with a local lady and indeed the local Moscato liquor. He quickly switched from baked goods to beverages, and by 1891 had launched his own Barolo Chinato, Aperitivo Americano and a Vermouth, which earned local, then nation-wide love.
Cocchi's original techniques and recipes remain intact today. Cocchi' Storico Vermoth di Torino for example, was re-launched in 2011, on the 120th anniversary of the company, according to the original recipe. It sits in the category of the sweet vermouths, produced using fine Moscato wine as its base, then infused with a secret recipe of local and exotic botanicals. The Vermouth di Torino has the added impact of a geographically protected AOC. Indeed, Vermouth de Torino is one of only two AOC Vermouths, so this really stamps its authority. Meanwhile the company's other aromatized wines Barolo Chinato and Aperitif Americano also retain bartender affection,
and rightly so, because – and here we arrive at that second reason –  the Cocchi products taste phenomenal.
Sticking with the Vermouth de Torino, here you find liquid that could be served neat, chilled and on ice, with tonic, or used in an array of exceptional cocktails. On the nose you'll get the orange peel and chocolate, and this carries through on the palate, with raisins and cinnamon but also a nice light bitterness to finish. Balance, but with it a massive delivery of botanical flavour.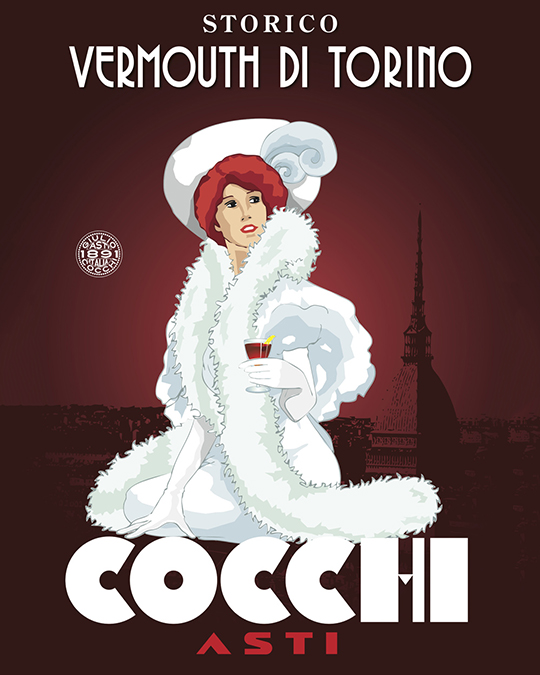 "COCCHI IS ONE OF THE TRUE CLASSICS OF THE BACK BAR FOR TWO VERY SIMPLE REASONS: TASTY LIQUID AND A REMARKABLE HISTORY." 
During the late 20th century, a somewhat fallow spell for vermouth, the requirement for a Manhattan or Martini on a menu kept the category afloat.  But barely. While there has always been a cabal of conscience connoisseurs, a majority of less considerate bar keeps treated vermouth with a contempt it didn't deserve. Bottles were often opened and left to fester and oxidise on dusty shelves instead of fridges, dying very slow deaths. But when the Negroni suddenly emerged as a staple, here was evidence that bartender appreciation for this fortified wine, was finally being reflected by the punter.
For the uninitiated, vermouth is a fortified wine, and according to the guidelines the abv ranges from a minimum of 14.5% to a max of 22%. At least 75% of the liquid must be wine, so if you're trying to reach out to the oenophile this is a useful asset. It also contains botanicals, which should rouse the interest of gin fans, and it must include wormwood. This particular botanical has an illustrious association with drinking; coming from the Artemisia genus, it is present in absinthe and it makes itself known in medicinal experiments as early as Ancient Greece.
Wormwood found its way into wine before Jesus was mucking about with his water into wine trick, but it was 18th century Italians who used it to cement a vermouth culture. This combination of wine with bitter botanicals made it the perfect pre-dinner drink and so vermouth became synonymous with the aperitivo, preparing palates across countless piazzas, possibly for pizza.
The 20th century saw vermouth became best known as a key component in classic cocktails, and the simple neat serve of the drink fell a little by the wayside, but as the consumer looks for lower abv drinks that can pack a punch, a vermouth and mixer provides a useful alternative to a spirit mixer.
Meanwhile it's epic history in cocktails provides plenty of opportunity to revisit forgotten classics and reinvigorate a drink or two of your own. If you research old cocktail menus, you'll find vermouth invariably split between 'sweet' as an Italian creation, with 'dry' coming from France. This is a slightly misleading indicator and it might be easier to consider the basic rules of vermouth and then select one according to the tasting notes provided. Quality can be gauged by the wine used at the base, but profile is also determined on botanicals used and spirits used to fortify.
The category is vast, we've looked closely at Cocchi and with good reason, since it ticks all the boxes, but once you get into vermouth, you'll find plenty of scope to explore and even start creating your own. Vermouth is a product enjoying a massive renaissance right now, and in our view, a very deserved one.