Winning with Gin
When Jamie Jones won the World Class GB Bartender of the Year in 2017, it was the culmination of years of hard graft. The win put him on a wider, global map. Today, he's widely respected for his dedication to the craft of drinks and enjoys plaudits for an innovative approach to cocktail creation. Which is why it's surprising to hear how his approach to bartending remains relatively simple, particularly when it comes to gin.
"I guess with the way the market has exploded, it's pretty tough for bartenders to keep up with all the new brands and their botanical make-ups," he admits. "But a lot of it is nonsense, that's why I tend to stick to what I know best. A bartender should have a good understanding of the styles of gin out there, and why they will taste and feel different. After that, it's personal taste. I love Tanqueray No. Ten, I know how I can use its versatility and if it ain't broke, don't fix it.
"For me it's simple. Test the quality of liquid. Is the backstory a gimmick or legit? Will it make a good martini and G&T? It's pretty basic stuff. I smell it, then I sip it neat or with a dash of water. But like I say, I'll always make a Martini and a G&T, that's my litmus test. If a bartender is looking to learn about gin, I'd say make as many Martinis as you can with what's in your bar and make notes on the differences of aroma, "bite" and taste. Then see what happens to them as they warm."
Simple advice that's easy to follow if you're looking to juggle the gins. But while it sounds simple, Jamie's approach has been far from that, and to be fair, he chooses a complex gin in Tanqueray No. Ten.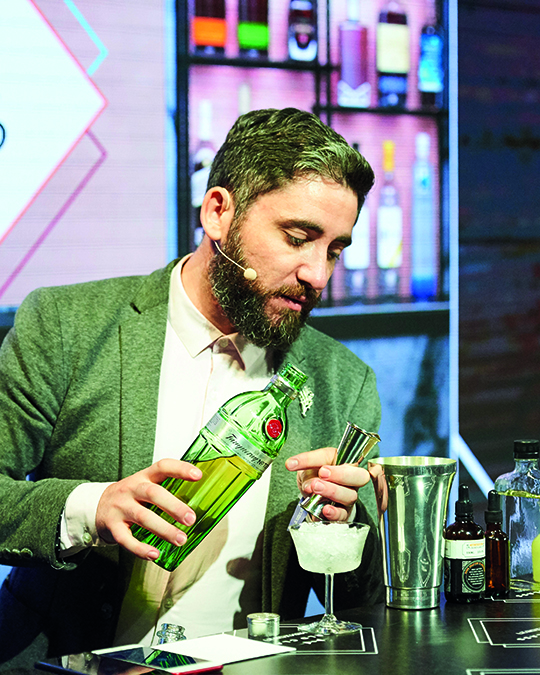 "I PREFER SIMPLE AND TASTY."
Either way, when a bartender like Jamie talks about gin, you listen, because with 13 years of bar service behind him, he has seen the category change dramatically. He has also harboured an affection for the spirit long before his professional days behind the stick.
"I vividly remember trying gin for the first time, it was long before I started bartending when I was 19. I had not long been drinking and was introduced to gin and tonic with lemon. This was in Chester, and in a bar that no longer exists called Via Vita. I remember how refreshing I found it – I was pretty much sold from day one."
A simple approach to gin was a lot easier back then, Jamie was subjected to very few choices when it came to his maiden G&T. In more recent times bartenders have had to face a bamboozling array of botanically infused products and if you can get past the memory test, then finding the creative spark can be just as challenging. But while working closely with chefs when he was overseeing 17 drinks venues for Jason Atherton's Social Company, Jamie often looked to the kitchen for additional inspiration.
"Bartenders make cold, wet and flat drinks for the most part," he says. "Chefs have so much more of a grasp over flavour manipulation, texture and extraction of flavour and aroma. We still have so much more to learn from even the most basic of culinary techniques. Gin of course can work, but only when used in the right way and with the right dish. Spend time with a chef and they'll certainly be able to help you understand more about pairings."
Jamie started his time in bars as a glass collector and bar back, and after falling in love with the bartending world, he studied, attended events and surrounded himself with as many industry people as he could. More recently this affection for bartending has landed him the role as director of drinks for the innovative Scotch+Limon.
"We are an international drinks and brand consultancy, creating disruptive serves, brand strategies, menu creation and comprehensive training. I look after any drinks led projects we have, so currently I'm on consultancies for Barcelona, Madrid, Miami and New York as well as various other brand projects we have. Lots of travel, but I'm doing what I love most which is 100% creative and teaching."
An enviable job, proving that dedication to the craft of bartending can deliver extraordinary career opportunities. And further inspiration to anyone reading that if you devote yourself to subjects like gin, you can have a bright future in the industry.But even in his new role, he has used his vast experience to keep things unpretentious.
"I prefer simple and tasty," he says. "Overly complicated techniques aren't my style, but that doesn't mean they don't make great drinks. A lot of the menus I write are for bars and restaurants around the world, so I tailor each drinks list to the local palates of the consumers and abilities of the team. Above all, you want drinks that someone will order again and again."
This approach helped him achieve in the World Class competition last year, winning the title of World Class GB Bartender of the Year 2017. Gin featured again, and one of the winning drinks was a Tanqueray No. Ten Martini, mixed with hemp, lemon and lime oil-washed Ketel One vodka.
World Class remains the benchmark for bartenders around the globe, pitting wits and indeed olives against the very best.Now in over 60 countries, World Class has supported, educated and inspired over 250,000 bartenders through its training and advocacy programme.
"World Class has opened a lot of opportunities up to me to travel even more than before," says  Jamie. "I've been presenting and training people all over the world, as well as being asked to feature in content for brands like Tanqueray No. Ten. Even just entering World Class in the UK means you get the opportunity to receive honest feedback from well-respected industry people, as every single entry is judged in their own bar before the next stage. That for me is invaluable; I've learnt more from criticism than I have from praise."
His last words are evidence of what it takes to make it in any field, and bartending is certainly no different. As well as a natural aptitude for the job, and a passion for one of the bartenders most important tools in gin, he has a very welcome habit of making the simplest drinks seem stunning.
For more information about entering World Class, visit THEWORLDCLASSCLUB.COM.