Local Lad
I'm lucky enough to have visited some of the best bars in the world over the last 10 years. While working for Diageo Reserve Brands, I was based in London and travelled extensively. But I had previously lived in Essex with my family and always felt – like most of the Essex crowd I would speak to – that you needed to travel into London to experience great drinks. There are some fabulous restaurants, country pubs and mainstream bars in a county like Essex, but nothing I ever found offered that something special.
So, when I looked at opening Amico's Bar here, I got back to basics. I encouraged the team to look at everything, from the ice we would use, the quality of the products we could stock and the level of service and capability that comes with well-trained staff.
Since taking this leap of faith, the biggest challenge we've faced has been convincing some of the locals who haven't experienced this level of drinking. We have had to help them understand why drinks may cost 10% more than the average cocktail in this area, why we choose to use large blocked ice, why we are using straws made from straw instead of plastic and why we choose leeks as garnishes on our drinks! Having said that, it's only a minority that need convincing because a sizable percentage of customers totally get why we are doing this. We know this because they're giving us great feedback, which is proof there is a demand for this quality in and outside of London.
Why is it working? Well, at Amico's we have a strong theme that makes sense. We combine our Italian heritage with the fresh, local produce of Essex to create a cocktail menu inspired by the flavours and aromas of Italy's iconic regions. The result is a cocktail menu that takes you on a journey through the different, sun-drenched regions of the country but has a local feel. All 11 cocktails have been designed to be innovative, unique and take inspiration from celebrated Italian dishes and iconic native flavours.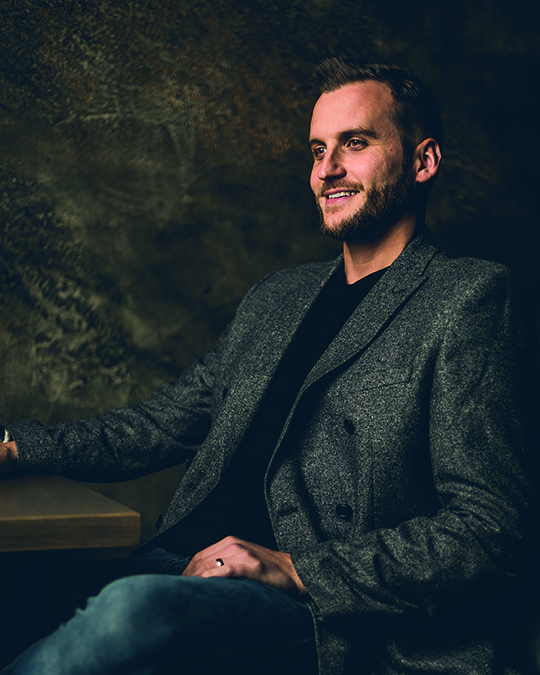 "AS WELL AS RUM, SUSTAINABILITY WAS AT THE FOREFRONT OF MY MIND WHEN WE LAUNCHED AMICO'S."
When it comes to the drinks, we have selected a minimal number of spirits for our menu comprising only four brands per white category and two whiskies across the four corners of the classic flavour map. We have a premium speed rail consisting of Ketel One Vodka, Tanqueray Gin, El Dorado Rum, Bulleit Bourbon and Johnnie Walker Black Label. It's unusual in this area of the country to experience this level of pouring products, but the guests are pleasantly surprised with the difference it makes.
When it comes to rum, I am a massive advocate for this category and specifically Zacapa Rum, which we include in many of our cocktails at Amico's, alongside El Dorado. Serving these styles of rums in an Old Fashioned cocktail is becoming very popular for our guests. Sipping neat is still a very new concept for them, but as I've always stated, getting them to try the top-quality rums neat is the first hurdle, from there the journey of conversion is generally very easy.
Our passion for rum shows in that we have used rum in three out of the 11 cocktails on the menu. For example, our Rome cocktail was inspired by carbonara and is a twist on an Old Fashioned mixing a pancetta-washed Ron Zacapa 23-year-old with Pecorino syrup, black pepper bitters and Parmesan-toasted spaghetti. Meanwhile the Sardinia is inspired by myrtle and is one of the longer styles of drinks on the menu, mixing El Dorado 5-year-old with Italian lager, saffron, myrtle and lemon.
As well as rum, sustainability was at the forefront of my mind when we launched Amico's. You learn there is always a balance between sustainable practices and what is financially viable when it comes to execution. There are some nice ideas that might be embraced, but there are also some absolute no-brainers. So, our menus and serviettes are made from recycled paper, no plastic disposables are used in the bar and our straws are made from actual straw, which is the most sustainable alternative to plastic straws I have unearthed.
We have foot-operated taps in the bar, which not only improve efficiency and cleanliness, but reduce water usage by up to 70%. We are trying to work with natural candles from citrus fruit and vegetable oil instead of tealights and try to purchase as much of our produce as possible from local farms, reducing our carbon footprint.
Sustainability is important because every bar that gets on board by changing to at least one sustainable practice will help drive consumer awareness and ultimately improve the environment.  There hasn't been a better example of this than what's happened with straws. The move away from plastic was driven by individual bars around the world and is now a globally understood topic with the public.
And there's a synergy with the spirits we use, particularly in something like Zacapa whose producers consider what can be done  during the production process to be achieve sustainability. One example is how they utilise the bagasse (the fibrous matter that remains after sugarcane is crushed to extract its juice) to power their production plant.
Zacapa's efforts to use and re-use organic matter in production taps into one of my other passions. I'm currently spending a lot of time on gardening practices and considering how they will need to sit closely with bartending in the future. The concept of 'homegrown' has been around for a while both in the trade and consumer worlds, but to progress in our industry we need a deeper understanding of botany. Growing at home or at the bar can produce higher creativity, unique selling attributes, the ability to manipulate flavour and ensure sustainable and organic practices, which help our environment and provide you with a remarkable story to sell any rum cocktail.