Ian Burrell
Whatever you do, try not to befriend Ian Burrell on social media. It'll only depress you. Throughout the wet, cold winter months, he simply won't go away – popping up on your phone, always somewhere absurdly exotic and warm, always with a rum in his hand and a cheeky grin on his face, wearing his trademark colourful Tiki shirt and a fine-looking Fedora perched on his head.
It's by no means the only hat that Ian's worn. Prior to becoming one of the most travelled and acclaimed figures within the rum industry, he was not only a professional UK basketball player but also an internationally acclaimed recording artist known as "The Dude" – in fact, his song "Rock da Juice", featured on numerous PlayStation games as well as the soundtrack for Hollywood blockbuster "Scooby-Doo". Zoinks!
But it is his role as The Global Rum Ambassador for which he is now famed. He conducts masterclasses, seminars, sips cocktails and judges competitions across all 7 continents around the world – even opening a pop-up rum shack in the Antarctic.
In 2014 he even took the time to break the Guinness World Record for the largest organised rum tasting and masterclass, he is also the driving force behind the world's first international rum festival the UK RumFest, which is now approaching its 12th year featuring more than 400 of the world's best rums.
In short, there's very little that Ian doesn't know about rum. We sat down and talked to him about it.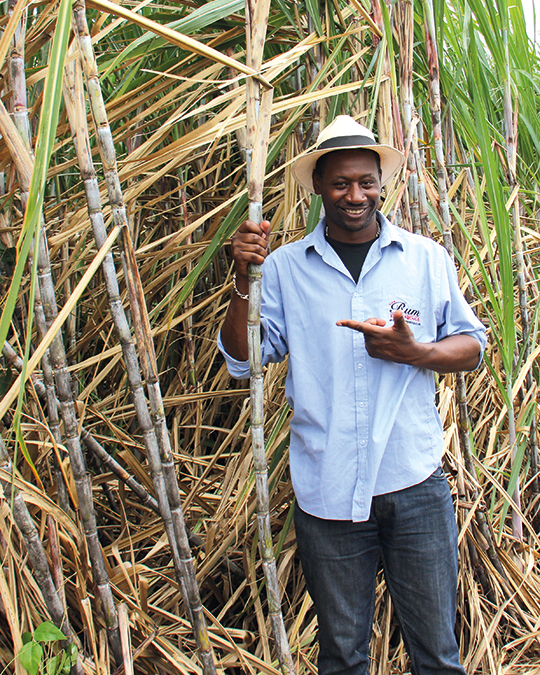 "[RUM IS] AN AMAZING, DIVERSE SPIRIT CATEGORY THAT HOLDS ITS OWN AGAINST ANY OTHER SPIRIT OUT THERE."
You've been involved in the UK rum scene for years now, and as the founder of the hugely popular UK Rumfest, how have you seen the scene evolve since you first started championing it?
It's grown significantly as more and more consumers have demanded a wider range of rums. When I started the UK RumFest back in 2007 there were no events to promote the diverse category of rum. Now there are many events that bring rum loving people together to learn that rum is more than just white, gold and dark.
Sales of rum are soaring and 2018 is being hailed as the year for the sugar cane spirit. Why do you think that it is capturing the imagination of consumers?
Rum has always been popular. Most people will drink it in a cocktail or with their favourite mixer, but now we are seeing an increase in sales within the premium sector of the category. Most people's perception of a premium spirit is one that can be sipped neat or with a dash of water or a couple cubes of ice. There are now many rums brands that are capturing the imagination of connoisseurs and casual rum drinkers alike, thus increasing awareness and sales.
What must the rum category do to ensure this growth is sustained?
It needs to continue to evolve. Educate its consumers. Embrace technology but not forget it traditions and heritage. Continue to be fun.
What are the key issues facing the rum category in the UK?
The biggest issue is the perception that anything made from sugar, or that is sweet and spiced, or 'Rum' flavoured, is RUM. There is a lack of understanding among the trade on what is the real definition of a rum.
This lack of knowledge is then passed onto the consumers who rarely understand the spirit definitions. They just want a drink that tastes good. For example, rums are still categorised as white, gold and dark on most menus but they are more complex than that.
Colour tells you nothing about the product in your bottle. Imagine a wine list merely saying 'white wine', without clarifying the grape variety or country of origin.
You've previously been outspoken about regulations within the rum category – what do you feel needs tightening up in this regard?
There are many countries that have rules and regulations on how they make and market their rums. But once these products are sold to a third party or brought into another country, they can be manipulated in any way deemed fit to promote it as a premium drink.
In some countries you are allowed to use age claims on your bottle referencing the OLDEST rum that was used in your blend, but most consumers believe that an age claim means how long a product has been aged for.
So if there is no level playing field because the regulators are not enforcing rules to help consumers make an "informed" choice for their rum, then some companies will take advantage of any loophole to promote anything that looks, tastes and smells like a rum as a premium rum.
What must the governing bodies be doing to ensure that the consumer isn't hoodwinked?
Enforce their own rules. Or create up-to-date rules that everyone can agree on. Similar to whisk(e)y. Or just employ me. I'd create a rum "standards of identity" in a matter of months. Make it law, then ban any brand that wants to flout this law.
Do you think there needs to be a global agreement on what defines rum?
Definitely not. Why? Because everyone is entitled to make their own version of what they perceive as rum. What is the global agreement for whisk(e)y ? Or brandy? Or vodka? There isn't one. BUT if you're adding any form of additive to your rum that is in the customer's interest to know what they are drinking, then that should be disclosed. Especially to the trade who are more inclined to support honesty than marketing bullshit.
What makes an "authentic" or "pure" rum in your opinion? What is your opinion on adding sugar back into the rum?
The word 'authentic' is frequently misused, especially in the spirits industry. It is normally bandied around as the "right way" among the rum industry. I like to refer the term 'authentic' as the "old way". This does not mean that the old way is the best way. It's merely creating a product that captures part of a company's history and traditions. So for me, rums created using old batch distillation or discontinuous methods are making their rums in an authentic way, as this was the only way rums were made when they were first created.
But evolutionary methods are traditional methods waiting to happen! Thus continuous methods of distillation have improved how some rums are made. These can also be traditional to particular brands, especially the single and twin column stills used in the Caribbean.
Where do you stand on the "sugar" topic?
The sugar topic in rum will always be an interesting debate around the world. It is normal in some countries and alien in others. I personally don't mind "sweetened" rums as long as it's disclosed how sweet they are or what's been added. Champagne adds sugar to some of its wines. And the consumer (if they know what to look for) can see this on the label. Brandy does not disclose how much sugar is added to it. Nor does vodka. Again, if I were the "Rum Tsar" for rum standards in the UK, your rum would have to state certain words on the label, if it exceeded a certain number of grams of sugar per litre. I like the Champagne method of Brut, Extra Sec, Sec and Demi Sec. This wouldn't stop me from drinking sweetened rums, nor would it stop anyone else who enjoyed the taste of it, but at least you know where you stood.
If you're looking to pay more for a premium rum, are there any rum-producing countries, that have tight regulations to ensure that what is in the bottle relates to what is on the bottle? And any nations that one should avoid?
There are a few but Jamaica, Barbados, Martinique, Cuba, Puerto Rico and Venezuela are a few rum producing countries that have strict guidelines about what must be in the bottle, and what it says on the label. I know what I'm paying for when it comes to countries like these.
What questions should bartenders be asking to ensure that the rum is authentic?
Where was it distilled? Where is your distillery? How was it made? Where was it aged? Has anything been added to it?
What can the bartending community do to improve consumer knowledge of rums?
Empower themselves with knowlege of the rum category. Learn from the blenders, the distillers, the ambassadors. Then do their due diligence. Attend REAL rum festivals that invite the people that are behind the brands. Not just the events that promote rum as just a "party spirit". Come to one of my masterclasses!
Bars that don't focus on rum, what are they missing out on?
Nothing. Just an amazing diverse spirit category that holds its own against any other spirit out there. If your bar has a great whisk(e)y selection, as well as brandy, gin and vodka but only has a few rums on the shelf, categorised as white, gold, dark and spiced on your menu… Then you are not offering your customers a complete rum experience.
What advice would you give to high-end bars looking to improve sales of premium/sipping rum?
Create a special part of your menu for premium rums. Sit them side by side with the single malts, cognacs, and after-dinner drinks. Explain why they command a premium. Arrange tastings, food and rum pairings. Offer a small jug of water for cask strength rums. Serve more cask strength rums. Remember, in the minds of most people, rum is cheap because the biggest brands in the world are fairly affordable, and the true premium rums don't have the big marketing budgets of a vodka or gin to create that intrinsic value for the consumer.
How would you recommend bars serve Navy rum? Is it due for a revival?
I'm not sure if Navy rum is due for a revival, but it has been doing well in cocktails. I'm seeing many bars offering their versions of "Dark & Stormies" using a dark Navy rum. Or within cocktails such as Treacles or Rum Old Fashioneds. I personally think the Navy rum story is a great one and can only help the sales of Navy rums.
Spiced rum seems to be doing very well. How should bars approach that?
Like they do with their gins. Spiced rums in a Highball can be a fun way to introduce someone to rum cocktails. I recommend spiced rum and ginger, tonic, Ting, even various styles of cola of course. I don't come across many people who sip their spiced rum neat… but there are a few spiced rums (which are real rums that have been spiced, and not vodka flavoured with caramel, vanilla, spices and sugar) that taste great neat, or with ice and a slice of orange.
Compared with cognacs and whiskies, do you get more bang for your buck from top-end rums? Is this to do with the ageing?
Well as many rums are aged in tropical climates, the evaporation rate of the liquid in the barrel is faster than a spirit aged in cooler climates. For example, a whisky barrel in Scotland could lose up to 3% of volume over the course of a year. In Jamaica, a barrel of rum can lose up 6% of its volume in the intense tropical heat over a same period, thus ageing twice as fast.
So, a 5-year-old rum in Jamaica is equivalent to a 10-year whisky from Scotland. This is not to say that the rum would be better than the whisky, but that both products will have matured at different rates. Of course, the 10-year whisky will cost more than the 5-year-old rum even though they may have the same maturity.
Should bars be categorising their rums based on geography? Style? Or occasion?
I would like to see more menus categorise their rums on geography. This is what they do with their whiskies. Why not their rums? Also on how they are made; 'Pure Single Pot Rum' – 100% pot still rum from a single distillery; 'Single Blended Rum' – a blend of pot and traditional column still rums from a single distillery; 'Traditional Rum' – made in the traditional single or twin columns still; 'Rum' – made in the modern multicolumn still.
What does rum offer the discerning drinker that other spirits cannot?
Geographical diversity in flavour profile and distillation methods.
What are the three greatest rum cocktails in your opinion?
The Planter's Punch: the drink that launched a thousand other rum drinks including Tiki cocktails – the Daiquiri, the Mai Tai and any other rum drink that takes advantage of the recipe of rum/lime/sugar with a little spice and water.
The Cuba Libre: some would say the rum and Coke (with lime) is the most requested way to drink rum around the world. Not limited to just Cuban rum it is the king of the rum highballs. The Gosling's Dark 'n' Stormy is a nice alternative.
The Mai Tai (Trader Vic): this cocktail is king of the Tiki drinks. A drink that showcases the quality of a heavy-aged rum or a blend of several rums, enhanced by the subtle flavours you'd naturally find in a well-balanced aged rum. Nuttiness, sweetness, citrus, and vanilla.
What food pairings do you think suit rum? Chocolate? Cheese?
Chocolate, of course, is a natural fit. Cheese works surprisingly well with some rums. Cold red meats and game also work well with great tasting rums.
What advice do you have for bars looking to serve rum punches?
Create your own amazing recipe. Stick to it. Batch the drinks beforehand. Buy a few beautiful punch bowls with cups or glasses to match. Create a punch menu. Offer it to your guests. Watch your profit margin increase.
What advice do you have for bars looking to serve rum punches?
Our 12th Annual RumFest on 20th & 21st October will be better than ever. More rums from across the world to sample. More seminars to learn about the category. More private tastings of rare rums to understand authenticity. More rum ambassadors, blenders and distillers to learn from. More cocktail competitions on our main stage, and the launch of London Rum Week from 15th – 21st October which will create rum experiences all over London for seven sensational days.