Gin Legend
Anyone with an interest in spirits and cocktails should be aware of Desmond Payne. He is the Master Distiller at Beefeater and has been for more that 50 years. Indeed, he's so renowned for his distilling expertise, that the Queen recognised his skills, awarding him an MBE for services to gin in the New Year.
Desmond's Beefeater remains an essential gin to have in any serious collection, a distillate bursting with botanical brilliance, and one many leading bartenders still insist makes a quintessential Martini. Paul Mant, currently group bars manager at Australia's behemoth Merivale Group, made us a belter of a Beefeater Martini almost 10 years ago, and it still sticks in the mind.
Desmond also invented Beefeater 24, one of the key gins in the step towards premiumisation for the category. These days consumers think nothing of spending more than £30 a bottle, but when Desmond pushed open that door, there were only a handful of others around him.
Along with making incredible gin though, Desmond has watched an evolution in drinking trends, enjoying not only the current gin renaissance, but also a wave of cocktail culture.
"In that time, no single trend has excited me more than this golden age for the cocktail," he says. "At the heart of this new golden era is gin. When I began working in the industry, gin was often ridiculed as 'mother's ruin', a white spirit of interest only to old ladies and travelling salesmen in hotel bars. Now 'Gineration X' – millennial drinkers – is seeking out the artisanal nature of gin. That focus on craft, on provenance, on taste, has propelled gin back to its rightful place."
There are no ceilings when it comes to gin for Desmond. From Plymouth gin where he distilled before 1995, to his recent experiments with maturation, resting his gin in Jean de Lillet casks, he has always pushed boundaries. And while he is a passionate advocate of juniper, he also celebrates the botanical variety in gin.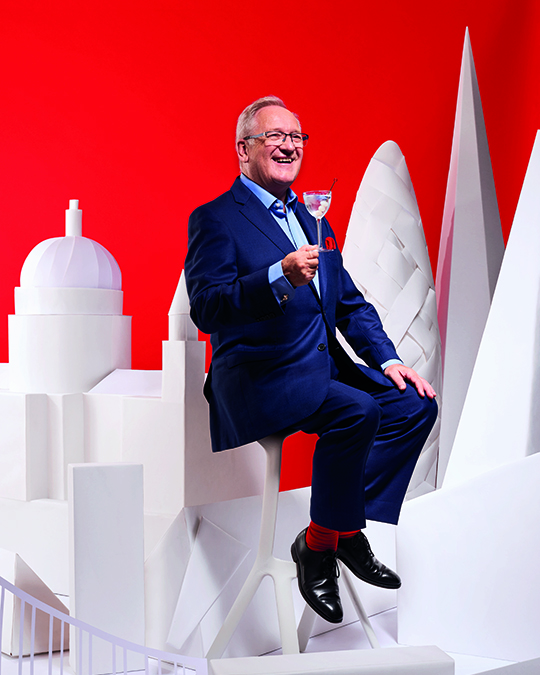 "GIN ALLOWS MIXOLOGISTS TO EXPRESS THEIR CREATIVITY IN WAYS THAT, I TRULY BELIEVE, NO OTHER SPIRIT CAN MATCH. BUT, OF COURSE, I WOULD SAY THAT."
Cocktails then, are an important part of Desmond's gin culture today, unsurprising since, as with gin, he has seen cocktail culture drag itself from the gutter.
"From the 1960s to the 1980s, bars had what I call the 'Holiday Inn syndrome'," he says, "where if you went to a Holiday Inn somewhere they would have a couple of cocktails, maybe three, four, probably none of them gin, on a menu on the bar. And if you ordered one it came out of a premixed bottle that was underneath the bar, and they dressed it with soda water and an umbrella and a cherry on pink plastic stick in the shape of a sword. And that's about as far as it got."
A grim old time for the mixed drink then, but fascinating to hear as we consider the incredible recipe resources now available, the glassware and even ice we have to play with in bars.
Through his work with bartenders, Desmond has helped cultivate this new enthusiasm for rediscovering forgotten gin classics, and bringing gin back to the forefront of quality cocktails. The Beefeater MIXLDN Bartending Competition has been a part of this process, dramatically growing since 2011. Even then 50 entrants from four countries took part. This February, though, it was 1400 from 33 nations. Alex Walker of the Beaufort Bar in the Savoy took the UK heat to reach the world final (read about his drink over the page), and is a great example of a passionate, pioneering bartender who is surging into the limelight and benefitting from the experience of Desmond.
"I feel very honoured to be living through a time when mixed drinks are at their most popular since Prohibition was introduced in the US in 1920," he says. "We are echoing the first golden era that was kicked off by famous bartender Jerry Thomas in the 1860s and the global appeal of cocktails and gin is highlighted by the MIXLDN Bartending Competition."
The comp is certainly one of the highest profile opportunities to showcase your creativity, and as part of the process, you'll get to meet Desmond, a true legend of gin and drink. We can't think of a better reason to get involved.
If you love gin and are creative with gin cocktails then find out more about the competition at www.beefeatermixldn.com.