Blended Whisky
How did you become the master whisky blender for Johnnie Walker?
I joined the company back in 1979 so I've been here nearly 40 years. I trained as an analytical chemist and it was good fortune that I started doing stuff at university that could be applied to flavour research.
I spent a lot of time in our distilleries exploring how both malt and grain influences the character of the whisky and how the different single malts change in the barrel.
I spent 10 to 15 years in different distilleries, delving deep into the character of the different spirits and learning how to evaluate each one from a sensory perspective, and really understanding the science behind it all.
But then I swapped my lab coat and became a master blender and I could apply what I learned from all those years spent in the different distilleries.
What do you need to make a great blended whisky?
I think there are three parts to this. You must have good malt whiskies, great grain whisky and great wood. That gives you the tools to create the blends but you do need to understand how they work together – which is why all those years looking at the different single malts has been hugely beneficial.
Is blending a science or an art?
It's like any craft. You learn the basics that are grounded in science and as you get to grips with the technical aspects, it becomes more instinctive and more of an art. The bedrock is science and technical knowledge but then you can express yourself as an artist.
That said, I'm still a student and I want to discover more. I'm hugely inquisitive and I'm always learning. For the very simple art of blending we work with building blocks of flavours that can be appraised logically – but it still springs surprises.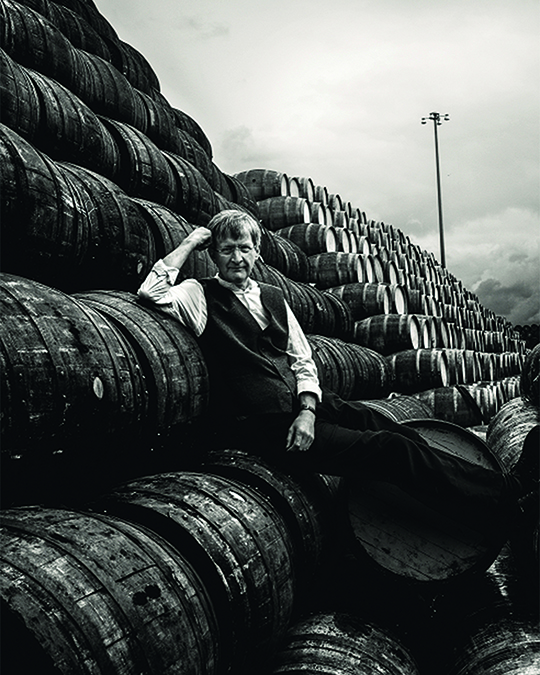 "THE BEST THING YOU CAN DO WITH MALT WHISKY IS BLEND IT WITH A GRAIN WHISKY…YOU BRING THE WHISKY ALIVE WHEN YOU START BLENDING AND MIXING IT."
How has the blended whisky landscape changed since you began your career?
When I first started working with blends like Johnnie Walker, the consumer experience was very traditional – a glass of whisky, a drop of water and maybe a chunk of ice. This was how whisky was communicated, it was very old-fashioned and the occasion was very rigid.
But now, the consumer experience has changed enormously. People want to experiment much more with it. The blended whisky occasion has been expanded and we are having to respond to this which is very exciting.
Are single malts superior to blended whisky?
Single malts are great but Johnnie Walker Black Label contains over 40 malt whiskies, of which some are more than 30 years old, and they are combined by a team of master blenders with huge experience and expertise. That's an amazing story in itself. The single malt story is a compelling one but I believe the blended whisky story is richer.
How important are bartenders in communicating this message?
Bartenders are really important conduits to the consumer. They are the bridge between blenders and the consumer and their knowledge and enthusiasm are key to the success of blended whisky all over the world.
They are blenders themselves – working and understanding flavours, whether they are making a complex cocktail or a simple, well-constructed Highball.
Do you think the Highball is a good way of showcasing blended whisky?
Yes, but like any drink, it needs to be served correctly. The soda water needs to be correct, the proportions and the ratios need to be right – it's incredibly important that bartenders do these things properly.
It's a blend of ingredients that looks simple to make but is in fact easy to get wrong. There's much more to a Highball than people think but when it's done right, it's a great way to introduce consumers to blends.
If you had a £100 to spend on a Scotch whisky, would you spend it on a blend or a single malt?
I'm going to cheat on this one. I would buy a single malt whisky and a grain whisky and blend them together. The best thing you can do with malt whisky is blend it with a grain whisky – and I would love to do that. You bring the whisky alive when you start blending and mixing it.
Why are blends important if you're serious about spirits in your bar?
I think that as a consumer, bars can be very confusing. There's a tyranny of choice. One of the greatest assets of blends is that they have a certainty about them. Blends offer consistency and what you are buying is not just the varying components, but also the skills of the blenders and the science behind the art of blending.
What blends should you stock?
Your blended range should be distinguishable and different and designed for separate occasions. The Johnnie Walker variants are all based on different occasions.
What is the secret behind the sustained success of the iconic Johnnie Walker Black Label?
It's been true to the tradition and it's a very drinkable bold expression with lots of layers of flavour that can be used in all kinds of different occasions and serves.
Blended whiskies such as Johnnie Walker have a rich history but what are you doing to help blended whisky innovate?
Back in 2016, we launched the Johnnie Walker Blenders Batch series which has been a great way of showing bartenders the variety of flavours within Johnnie Walker and especially how these different flavours can be expressed in different serves – it's something that we are working on with bartenders within outlets. At the Diageo Reserve World Class 2017 cocktail competition in Mexico City, we revealed three new expressions and the reaction from bartenders was incredible.
What is your favourite blended whisky and why?
It depends on the occasion but if I had to pick one the it would have to be Johnnie Walker Black Label – as it reminds me of all the amazing single malts I have worked with over the years.
Favourite serve?
I take a tumbler containing a large ball of ice and then pour the whisky over the top. It's viscous and then the ice melts and opens up the flavours. Otherwise, a well-made Highball is great and, just the other day, I drank a whisky neat over lunch with a touch of water – and it was fabulous.
What is your favourite whisky bar and why?
There are some amazing whisky bars in Tokyo that I would urge everyone to visit. I like to have a good choice of whiskies and I like any bar where the staff make you feel special.
Have you been impressed with any bar professionals and their approach to blended whisky?
I've been lucky enough to meet a lot of very skilled bartenders who do great things with whisky. But the ones that impress me the most are the ones that engage me and want to know what I think – not just about the whisky but other things too.