Gin Wave
The relentless surge of gins arriving through bar doors is confusing. Here, bartender Vitor Lourenço reveals how he handles the spirit at Gin Bar in London.
So, for anyone in desperate need of armbands, we present bartender Vitor Lourenço of the Gin Bar at Holborn Dining Room, because, if ever there were a bar professional managing an overwhelming gin menu, it's this man.
Before we go on, though, it's worth explaining that one challenge Vitor doesn't face is limiting a selection to fit on his backbar shelves. The unique selling point of the Gin Bar in London's Rosewood Hotel, is there are no confines when it comes to gin selection. Indeed, the bar prides itself on having the capital's largest collection, featuring in excess of 500 gins and 30 tonics. Despite scraping a GCSE grade C in maths, we can report this means customers can try more than 14,000 possible gin and tonic (G&T) combinations. This is a massive departure from the dismal days when punters could choose a solitary house pour, or step up to the la-dee-da premium blue bottle of Bombay Sapphire. So perhaps the first question, before we get into helping you refine your own selection, is to ask Vitor: why did the Gin Bar team want to stock them all?
"For us it is an amazing challenge," says Vitor. "We want to allow those who visit us to taste different gins from around the world, providing a full experience of flavours and aromas. It also gives us the opportunity to feel and revive the history of gin through the location of our Gin Bar, in Holborn, an area well-known for its gin palaces."
The location truly is a reminder of gin's past. As well as a short walk from the Princess Louise gin palace pub, it's also an area William Hogarth depicted in his Gin Lane, the infamous etching that illustrated gin's ruinous impact on London during the 1700s. Known as the 'gin craze' the 18th century gin infatuation saw hundreds of awful amateurs attempt to distil gin, and do so with tragic consequences.
Mercifully the more recent 'gin craze' is one worth celebrating, and it's bringing talented, discerning distillers to the party. But how it captured the imagination of today's drinkers, after spending so much time in the doldrums, is more curious.
"I think it's popular today because it is such a versatile drink, it offers almost unlimited flavours," says Vitor. "It can be adapted to almost every taste or preference, it just needs to be fresh, vibrant and aromatic! The list of botanicals we have available to us is endless, so there is no such thing as someone disliking gin. As bartenders it's our job to discover a customer's preferred flavour and match it to a gin."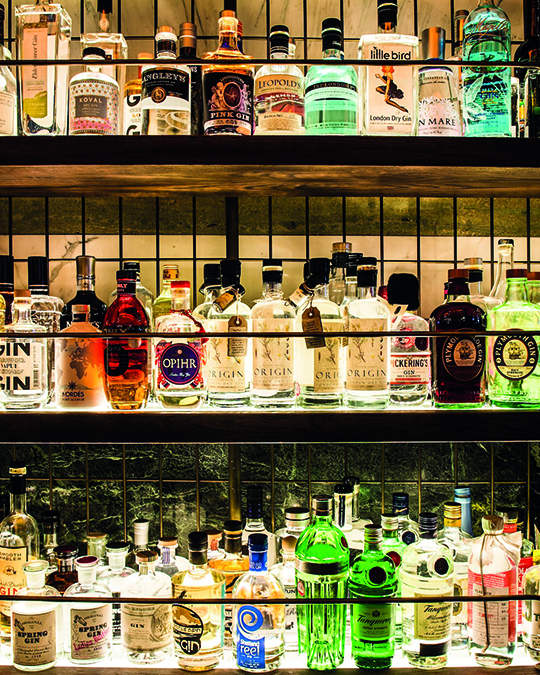 "THE SECRET TO REMEMBERING AND UNDERSTANDING GIN IS ALWAYS THE SAME WHEN YOU WORK BEHIND THE BAR. IT'S ABOUT THE PASSION YOU PUT INTO THE THINGS YOU DO."
Granted, in the Gin Bar this job is slightly easier; to reiterate, they have 500 gins… So if someone says they like pine, he can find a juniper-forward gin to match. If a customer prefers citrus, elderflower, or even horseradish, he can help. Of course, not everyone has the space to accommodate all these profiles – although, that said, every one of these flavours be can found in the gins listed in this magazine.
But regardless of the depth of range, Vitor rightly points out, you can satisfy the crowd in your own bar by knowing your customers. The beauty of gin is that you can find an incredible variety of flavours in a collection far less wieldy than Vitor's 500. "Most people ask what the best gin is, and the answer is simple: it all depends on taste. The best gin doesn't mean the most expensive or the one with more botanicals, it always depends on your specific and individual taste."
This is sound advice for anyone choosing their gins: pick premiums to upsell to the experienced, ease the customer into the category with the mid-range gins, and remember  even mainstream gins like Gordon's have heritage and a botanical blend that provides scope to story-tell and sell. One of the more daunting dilemmas when it comes to stocking your bar with gin, is remembering what distinguishes one from the other. Of course, for Vitor, who faces that terrifying list of 500 gins, the approach must be carefully considered.
"The secret to remembering and understanding gin is always the same when you work behind the bar," he says. "It's about the passion you put into the things you do. What helps us is our amazing Gin Bible. Updated with all the gins we have, it gives us the perfect support. Then, every time we create a new gin-based cocktail or a G&T perfect serve, as a team we do extensive research regarding the gins we will be using. This way we keep our knowledge up-to-date and up to standards. Also, having great assistance from several brands helps, providing us with weekly training or frequent trips to distilleries. All of this is extremely important."
This is useful advice, particularly the idea of creating a printed product for the staff that is treated as a bible. More than those armbands, such a book could prove the lifeboat for anyone thinking about upping the ante on gin selection.
Once you've got the team enthused and in line, you've got to sell a lot of drinks, in the case of Vitor at his gin bar, as many as 14,000 different G&Ts. This is where theatre becomes crucial. Customers are increasingly buying their own bottles and becoming avid collectors at home. A lot of education can be done from the armchair in front of X-Factor. This is actually happening folks, you need to get these losers out on a Saturday night. Bars need to step up the experience. When it comes to a bar's gin collection, it's no longer enough to be eclectic, staff need to deliver the spirit with quick-fire and retainable pieces of knowledge, the 'pub ammo' customers can take home. As important as this, the drinks must look exceptional. "The garnish is essential for a proper and delicious G&T," says Vitor. "That's what gives it an exquisite flavour, colour and aroma. In one of our perfect serves, we use chorizo to match with a mezcal gin. The vibrant sausage packed full of spicy flavours, harmoniously pairs with smoky gin. To finish it we used the freshest rosemary and an aromatic herbal tonic. The secret to maintaining perfection is ensuring that we always have the freshest ingredients, so we use different aromatic herbs or varieties of fruit."
Not everyone will want to stock a mezcal gin, this is a product for a bar that has everything. But every bar can find something that pushes the boundaries, and when you pass a G&T with a slice of chorizo over the bar, other customers are going to want to buy it. Assuming they like chorizo of course. The same happens with a spicy, floral or citrus selection of gin
"Having such a vast collection grants us some unusual gins," adds Vitor. "For example, we have the Portuguese Sharish Blue Magic edition. Blue is its original colour, however, when added to the tonic water, it transforms into light pink. Or that mezcal gin, where a base of 'agave cênico mezcal' is used with classic gin botanicals such as juniper, cardamom or coriander, and some Mexican ones, too, made with ancho chilli or avocado leaves. But you can simplify. If we are talking about a herbal style of gin, for example, a fresh sprig of rosemary or a mint leaf will definitely enhance your cocktail or G&T. The same happens with a spicy, floral or citrus selection of gin.
Taking your pick is still a bit of a minefield, and it doesn't help that while all the gins out there can't be five star, even the four stars make a solid claim to be included. When we asked  Vitor what gins he wouldn't stock, even this proved difficult.
"That is a very good question," says Vitor. "Sometimes what makes me hesitate when buying different gins, is the number of similarities with other kinds of gin. However, each one has its own history and philosophy, and we strive to keep the very best in our collection with premium editions, where we can find the most exciting botanicals."
Perhaps then it's easier to look at the essential cocktails for a spirits-led bar, the collection you cannot do without. But even here, it's tricky. We love a Martini, and rate a bar by the quality of the serve. But we also love a Corpse Reviver No.2, a Satan's Whisker, a Last Word… not all are standards. Even the G&T needs consideration. "Regarding this question, there are some unforgettable classics," says Vitor. "A delicious Negroni or a Gimlet should be there. But the most elegant and iconic gin-based cocktail is definitely the Gin Martini.
"At the moment we have 28 different kinds of tonic water in our Gin Bible. But if it helps, one of the secrets to creating an amazing and unique G&T is to make sure that the gin and the tonic are perfectly balanced. This way, the guest will have the perfect experience, where they'll be able to taste the different botanicals present in the gin, and the refreshing taste and aroma from the tonic water."
Ultimately, you come to realise that the Gin Bar can't be used as a yardstick, it's too much of an exception. The best advice we can offer is to go and drink it all in – well, perhaps not all, that would certainly see you drowning. But it's worth taking things away from a bar where even the G&T is scrutinised.
If you're still unsure of where to go with gin, then the bad news is, we're not done yet. Gin is here to stay, and the last word from Vitor is simply the beginning of another gin story.
"I expect much more from the aged gin category, it will develop quickly," he adds. "More distilleries are now aging their gin in different casks, including Bordeaux, port, sherry and bourbon. One great example is the 'Four Pillars Bloody Shiraz' gin which mixes Shiraz grapes with dry gin, or the 'Smooth Ambler Barrel-Aged Gin', half aged in new bourbon barrels, and the other half in old, used Scout Bourbon barrels for three months. This will definitely be the next step in the history of gin."
So, there we go, the gin wave is showing no signs of abating. After all of that, the best we can suggest is you dive in and learn to swim.