Cognac is back
Max Helm is recounting a story of a haircut. You might wonder why we open a Cognac feature with this strand, but bear with us, it's relevant, so don't get snippy about it, and we'll try and cut to the chase.
"I recently moved out of London with the family and I decided to get my hair cut in the local barbers," says Max, who, as we pointed out, really was talking about a haircut. "It looked like a place for a younger crowd, I wondered if I'd get away with it in there, or if I was a bit too old, but I was growing a beard so thought I'd fit in.
"The barber was covered in tattoos, a cool looking guy, and we got talking, the polite conversation you get in the barbers. As someone who works in the drinks industry, I'm always interested in what people drink, so I asked him what his favourite drink was. I was really surprised when he said 'Henny', which of course refers to Hennessy Cognac. Then he said: 'I don't drink anything other than Henny. I always have a bottle of VS in the Fridge.'"
Max's marvel is still evident a few months after the event. As the spirits ambassador of Moet Hennessy, and previous brand manager and ambassador for Hennessy Cognac, he has a vested interest in the growing awareness of this brand. But with no prompting, he had discovered an unlikely fan.
"The barber had been on holiday recently," says Max. "He told me how he and his friends had clubbed together to buy a bottle of XO in duty-free, and this is what I find particularly incredible. Because this proved he really understood the category. He had occasions for each expression, VS in the fridge, but to mark a special moment, the more luxury XO. I've already seen first hand that Hennessy is reaching a different demographic, but for me this was a reassuring revelation: they really do get Cognac."
The point of Max's story is this: whether you've accepted it or not, Cognac is now very popular with younger drinkers. As we write this the radio is coincidentally playng Riton and Kah-Lo. Seriously, this is actually happening, just like that haircut. Remarkable. And we get the line: 'Got to get loose with the Henny and Coke.' Cognac is now a component of millennial culture. So, if you have a bottle of it gathering dust on the lower reaches of the backbar, only set aside for those crusty chaps full of charmless chat, who chomp on cigars and bang on about an open log fire and politics, it's time to dust it off and get it front and centre.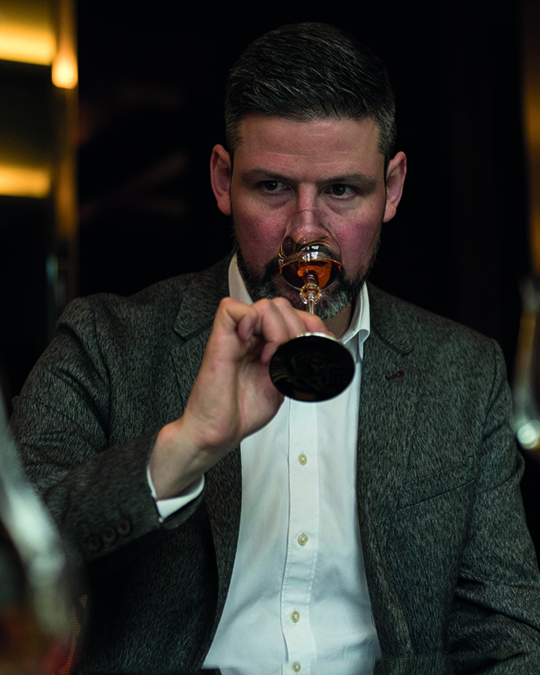 "SPIRITS GO IN CYCLES. WE HAD VODKA BOOMING IN THE 90S…AND NOW GIN IS HAVING ITS MOMENT….BUT I'M ALWAYS HOPEFUL COGNAC WILL BE NEXT."
"The growth of Cognac amongst younger drinkers has been completely organic," says Max. "As an example, I recently saw the Mercury award-winner Skepta photographed on Instagram with bottles of Hennessy. This wasn't engineered by the brand, it just happened. That shows where the brand and the category is right now."
And this organic popularity with younger scenes, whether it's music genres, the street art movement or indeed a more niche but equally 'cutting edge' cultural scene like men's barbering, provides a massive opportunity at the bar.
"Spirits go in cycles," says Max. "We had vodka booming in the 90s, then there was single malt, still huge of course, and now gin is having its moment, which is sure to continue. But I'm always hopeful Cognac will be next.
"Sometimes people forget the role brandy played for hundreds of years in the world of spirits. Wine was being made all over Europe before we were distilling, so as distilling became popular, everyone used grapes. This means brandy came first and led the way for spirits, and Cognac became the most revered of the brandies.
"You just have to look through an old cocktail book to understand its significance, the Jerry Thomas Guide dating back to 1860 is filled with brandy drinks. Take the Brandy Crusta. This drink is godfather to the Sidecar, and gave us a style of drink that leads to the Margarita. Even drinks like the Sazerac started as a brandy drink. The imprint of Cognac can be seen everywhere in the world of drink."
The daisy, the fizz, the sour and the flip, brandy was driving innovation in cocktails in the mid 1800s . Unfortunately, phylloxera did for brandy, the pesky blight destroying French vineyards during the late 19th century. The shortage of wine meant no brandy, and absinthe filled the void for the French, there was rum and gin gaining ground in the UK, and of course whisky, which has never looked back. But as bartenders over the last ten years have immersed themselves in the history of mixed drinks, it stands to reason this heritage in Cognac has been recognised on the best bar menus.
Perhaps its strongest asset is its versatility, embraced in Europe by sipping XO by the fire, perhaps, while in China it's a status symbol and in America it's a big part of the hip-hop scene. This versatility is reflected in the drink itself.
"Hennessy VS is a perfect example of the versatility," says Max. "Subtle spice, woody notes, a floral quality, it can be enjoyed neat, on ice or in a simple mixer. Have it with ginger ale and a squeeze of lemon, such a lovely drink. It's a sensory experience, the aromas work together, the ginger overlaps the spirit's flavours and aromas."
Bar professionals have been wise to this flexibility for some time. Max lists a number of great bar professionals who have embraced the spirit. Chris Dennis launched the bar Disrepute in London with a core range of Cognac cocktails. Ryan Chetiyawardana, one of the world's most pioneering drinks minds, worked with Hennessy on temperature and dilution in Cognac. He did so to mind-blowing effect, proving simple changes in both can hugely impact the flavours.
More recently Hennessy has teamed up with Callooh Callay to create a Coganc experience in the Jubjub bar upstairs. Callooh Callay is one of the most successful independent bars in London, the UK and possibly the world. At the top of its game for a decade it boasts an incredible bartender alumni, many of whom still work in the industry today. The impressive takeover allowed consumers and industry to immerse itself in the category, with Hennessey supporting the bar by driving industry exclusives alongside a genuine consumer experience. The fact that such a bar is embracing Cognac, and that Cognac is supporting the bar, is another indication of how relevant the category is right now. For Max, this is exactly how it should be, and while he starts the interview talking about barbers and haircuts, by the end of it, he's still lauding the qualities of this incredible spirit.
"Every area of production has a vital impact,"he says. "The care that must applied to the vitae culture. The careful distillation of fermented grapes in those extraordinary Charentais stills. Identifying the qualities of each of the distilled eau de vies. Then the aging, in the specific wood, the best French oak available, but also the duration. Single malt can't sit in the barrel for 40 or 50 years, evaporation means it will fall below the required abv, but Cognac can, so in this category you can find real history in the barrels, 10-year-old eau de vies in some blends like the Hennessy Paradis Imperial. Then there's the blending, the assemblage, you cannot simply take the best 20 eau de vies and blend them to make a Cognac. It takes precision and daily tasting to reach the consistency.
"That's what sets it apart. This is what makes Coganc great. And there really isn't a spirit like it."
If you ever fancy an insight into the intricacies of Cognac production, it's worth taking the pilgrimage to Hennessy to learn more.
The Hennessy Founders Cellar is a sanctuary to some exceptional eau de vies. Having distilled quality ugni blanc grapes from surrounding area of France's Cognac region, the eau de vies here have been maturing in oak or resting in dame-jeannes (glass demijohns) for decades, and in some cases, more than a century. The collection of Cognac here presents history in the form of liquid.
A key to great Cognac comes through the blending of these distinct eau de vies. Together they can form a balanced spirit, and while it's an ancient art it's one that is constantly evolving to meet the changing fashions of our palates. Throughout history, drinkers have adapted their demands for flavour, and while even 20 years ago the Cognac preference was for robust leather and wood, today drinkers are keen to explore lightness and floral subtlety. Master blender Renaud Fillioux de Gironde is the man at Hennessy who tries to match these demands.
Renaud is an 8th generation master blender, and samples thousands of eau de vies each year. He heads up a team of six carefully trained tasters, the Comité de Dégustation or tasting committee, completed by two additional members who sit in silence while the six discuss the flavours. Working Monday to Friday and tasting every day at 11am this team sits in a relatively small room lined with samples, a library of Cognac, and while the room is modest, it is one of the most vital spaces in the entire Cognac industry. To sit on the committee, you need to have extraordinary taste memory and devotion to the task. To see this and learn about the process gives an insight into the world of Cognac and you leave suspecting that the people involved really do treat it with all with the reverence of a religion.