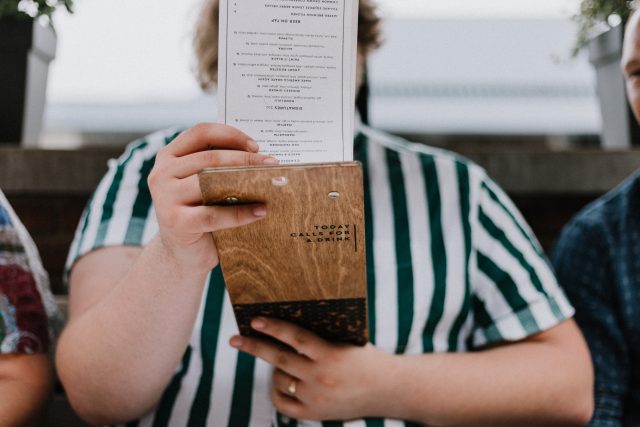 Creating a cocktail menu for your outlet can be a pretty personal experience. A lot of operators have worked their way up through bartending, making a cocktail menu refresh a pretty hands-on experience. Some prefer to let their bar team take on some ownership and create a menu between them, where some like to outsource entirely. There's no real right answer here, just what works best for you and the time that you have available, but creating a cocktail menu always comes back to the same thing: balance.
Outlet Profile
Sure, the Adonis cocktail is flipping glorious. The Aviation is an absolute banger, no doubt. Blood and Sand? WOOF. Are these the right cocktails for your outlet though? A menu full of obscure, lost classics can feel like a wonderful list to some, but even the most premium cocktail bar in Soho can struggle to make this appeal to all. Look at your sales mix: are you knocking out premium gins, Campari and a weird amount of vermouth like nobody's business, or are Malibu, RTDs and Zin Rose up there in the numbers? If you can, look at this data by day/time, too – for most outlets a lot of cocktails are sold on a Saturday, so build these tastes into your list. The mix will be different for everyone, but it can often give you insight into the preferred flavour profile of your general customer base. If your outlet focus is food, take this into account: build in dessert-feel cocktails as well as aperitifs to whet the appetite
How Many?
This is a tough one, as it really depends on your outlet. Outlets offering table service can naturally support a larger menu, as the amount of time that guests will look at a menu increases. A guest at a bar spends, on average, 109 seconds looking at a menu* so it needs to be succinct. Vanity lists are the Liz Lemon eye-roll of the bar scene – who really needs 45 cocktails on a menu? Are these all being delivered consistently and well? A shorter, well curated list is usually a winner. "Before you leave the house," Coco Chanel is supposed to have said, "look in the mirror and remove one accessory." If variety is crucial, change up your menu with more frequency while keeping it manageable. Just don't forget to follow through with the training if you do
Existing Classics vs Unique Creations
Over the pandemic, a lot of us have found a bit of joy in re-watching a TV show that we haven't seen in a while. It's a comfortable go-to, and often faster than deciding on something new. Familiarity is big business, and a mainstream bar can capitalise on this with a menu full of familiar drinks. Keep an eye on what's popular – an occasional Google help, but our Distilled team can help with real stats – and update the menu accordingly. The more premium your outlet, the more your mix will likely tip from familiar (classics and modern classics) to unique. This is a great opportunity for you to engage your bar team and create some new drinks together. First identify the gaps on the list (base spirit, strength, flavour profile), then start getting creative. Use local ingredients where you can, rope in some regulars for the tasting and use chalk boards/menu inserts or clip-ons and a little healthy in-house competition to see which creations really land with the drinking masses before adding it to the list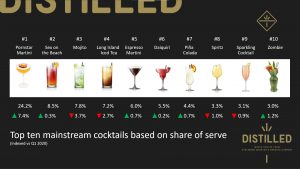 Glassware, Base Spirit & Flavour Profile
Gendering cocktails sucks. It's a dumb thing to do – 'girl drinks' and 'man drinks' don't exist, just what people like. Glassware, garnish and base spirit shouldn't be a conversation about this, so just make sure that you have a good mix on the list that caters to everyone's tastes in your outlet – complex/smashable (responsibly so, of course), strong/juicy, rich and sweet/austere and dry etc. The occasional review of sales will give you a good steer on this, so keep an eye on these and update if you need to. Lean into trends – people will spot their favourite spirit in the mix and give a drink a try. As we approach peak-Coupe, it's worth remembering that other types of glassware are available.  Menu explorers feel rewarded by variety, and the glass that the drink comes in is the fastest and most visual way to offer this. Mix up that list with flute, double old fashioned, Collins, coupe, Nick & Nora, hell even throw in a sling or a hurricane glass if you're feeling wild. Glassware often also indicates the strength of the drink, and a good menu will have a balance of spiritous and juicy, so while this should happen pretty naturally, make sure you sense check
Invest in the Training…
The best menu in the world will fall flat if the execution is poor. Training your team is the single most important part of this process. An extremely average menu can be delivered with finesse and (most importantly) consistency, elevating the content. A terrific menu delivered the wrong way is hugely damaging to the credibility and sales mix of an outlet. Hold regular team meetings where you each make the same drink to spec. Train the same techniques to the whole team. If you're on the bar, do things properly… you should be proud of every drink you make. Don't take shortcuts; if you believe a drink takes too long to deliver on a Saturday night or is too fussy, review the spec and ask the team how they feel about it. There's also a chance that they don't feel confident in delivering it well. Under-skilled is dangerous but fixable with training, however there is also risk in the other direction; experience and creativity are most certainly welcome, but a drink spec is a drink spec. 90% of the team cannot deliver a drink one way with the other 10% "preferring it served this way". A guest should be getting the same drink every time they order it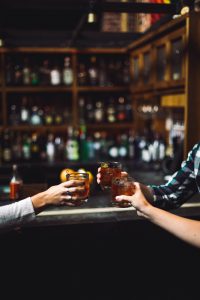 Trial & Error
Nobody worth their smoked sea salt has created their 'forever menu' because it doesn't exist, so there's really no need to be precious. Some ideas will fly, and some will flop disastrously. This can be tough because it's often that cocktail that you felt was overly mainstream that flies, and the drink that you lovingly birthed, infused, fat-washed and Japanese hard-shaked into existence that flops. It's not necessarily a bad drink – maybe the description isn't right, the menu placement or the execution, or maybe it's just not the right drink for your outlet. Only trial and error will tell you this. Once you feel like you've nailed your menu, drinks trends will continue shifting so you can soon end up with a few less relevant under-performers. 'Mennui' if you will. That one works better written down. Review for as long as you need to, replace, allow some time for sales and repeat
The Actual Menu
That 109 second menu read can result in a frustrated "I'll just have a vodka and coke, actually" or a memorable guest experience driving repeat visit and a better GP serve. All you need are a few tricks to get the most out if that time:
Visual aids – a frame around the cocktail listings in a drinks menu draws the eye, as does a change of colour
Grouping – a larger cocktail list can be hard to work through. Group them by flavour profile, glassware type, base spirit or whatever makes sense
The Hero Serve – want to be famous for a specific cocktail? Or maybe you have a cocktail on the list that is fast and profitable? Call it out with a box or border around it and you'll soon see the benefits
Descriptions – let's be honest, the majority of drinkers probably think that Velvet Falernum and Fernet Branca lip-synced for their life in the finale of the last season of Drag Race. There are a lot of ingredients that consumers don't know, and why should they? What guests care about is flavour. List the ingredients, by all means, but add some sizzle – use descriptive words. A tried and tested approach is a three-word guide: strong//citrussy//herbal, decadent//fizzy//complex or tropical//rich//sweet inspire more than  a list of contents
How We Can Help
We have plenty more tips and tricks to get the most out of your list as the team at Distilled have decades of combined experience in operating cocktail outlets and creating menus for them. Trading with Distilled is more than just buying spirits from a wholesaler, it's access to experience, tools and a consultative approach to finding out what is best for you so that we can get your range working hard
Get in touch using the details at the bottom of the page
* Diageo Omnichannel Research, February 2016.